UPA Report Sunday 12.13.20 More
5 min 3 sec
Private investigations of dominion in Texas going back to 2018
https://www.facebook.com/zach.cook.984/videos/2056775834459127
11 min 23 sec
It's Just a Mask – Mark Sargent
Aug 5, 2020
https://www.youtube.com/watch?feature=youtu.be&v=4RAaMXU2XKY
Everyone is already wearing a mask. They just don't work.
Jordan Schachtel, Dec 7, 20
Americans have exceeded universal masking benchmarks, but it has not slowed or stopped the spread of COVID-19.
https://jordanschachtel.substack.com/p/everyone-is-already-wearing-a-mask
Bring on 2021 – American Thinker
December 8, 2020, By J. Robert Smith
If the presidential elections fraud succeeds, 74 million citizens will have their votes nullified.  What would this act of disenfranchisement be other than war by other means?  Such historic elections theft amounts to a coup d'état.
https://www.americanthinker.com/articles/2020/12/bring_on_2021.html
Murphy's pandemic property tax increase (to cover a 10% pension payment hike)
by Sussex Watchdog
https://www.durfee.us/wordpress/2020/12/murphys-pandemic-property-tax-increase-to-cover-a-10-pension-payment-hike/
Michigan legislator who gave 'warning' to Trump supporters stripped of committee seats
https://www.msn.com/en-us/news/politics/michigan-legislator-who-gave-warning-to-trump-supporters-stripped-of-committee-seats/ar-BB1bMQsC?pfr=1
OMINOUS: U.S. POSITIONING NAVAL VESSELS OFF EAST & WEST COASTS; MASSIVE TROOP MOVEMENTS IN CONUS
HAL TURNER,  08 DECEMBER 2020
https://halturnerradioshow.com/index.php/en/news-page/news-nation/ominous-u-s-positioning-naval-vessels-off-east-west-coasts-massive-troop-movements-in-conus
Debunked?   NOTHING Has Been
TUESDAY, DECEMBER 8, 2020
No one's explained why a USPS truck driver was trucking 20-30 pallet-sized cartons of already-completed PA ballots into PA from NYFS.
No one's explained why all poll watchers and press were lied out of the Atlanta counting room.
No one's explained why after that happened, multiple cartons of ballots were pulled out of hiding and counted, God alone knows how many times.
https://raconteurreport.blogspot.com/2020/12/debunked-nothing-has-been.html
Congressman Paul Gosar's Open Letter to Arizona: Are We Witnessing a Coup d'etat?
https://www.revolver.news/2020/12/congressman-paul-gosars-open-letter-to-arizona-are-we-witnessing-a-coup-detat/
The betrayal is now complete: SCOTUS dismissal of Texas lawsuit illuminates final remaining option to save the republic
Tonight the US Supreme Court chose to dismiss the Texas lawsuit for lack of standing.
The court did not hear the merits of the case, nor did it decide on them. It simply declared that Democrat-controlled states can rig elections, commit ballot fraud, cheat and steal in whatever way they want even if their actions are wildly unfair to the other states which are impacted by the outcome of federal elections.
As of tonight, December 11, 2020, we no longer live in a functioning constitutional republic.
There is no longer any controlling legal authority that is functioning in America.
Even the death of Ginsburg, it seems, was not enough to lend the court a majority of jurists who might choose to uphold the rule of law.
The rule of law has now collapsed. The courts no longer even pretend to function. Censorship is extreme, the media print brazen lies and the elections are so blatantly rigged that the cheating is carried out on camera, for all to see. Yet every last American is apparently powerless to stop the election theft, for all the forces that despise this nation — and which hate liberty and justice — are now aligned against any functioning civil court action which might recognize and reverse the great injustices that have been carried out against this nation by Democrats and deep state traitors.
Yet despite overwhelming, irrefutable evidence of blatant election rigging, fraud and foreign interference, local judges are too corrupt to hear the cases, district courts are too corrupt to decide on the cases, and the highest court in the land is too corrupt to even grant the case legal standing.
America has been plunged into lawlessness by the US Supreme Court. There is no coming back from the path of emerging history that SCOTUS has just set into motion, and this path will be slathered with the blood of patriots and tyrants.
Every peaceful option to resolve this election has now been exhausted. The remaining options will all involve kinetic engagement.
America will now bleed. This is certain.
Supreme Court Rejects Texas Election Lawsuit
BY HERSCHEL SMITH,1 hour, 33 minutes ago
The "Supreme Court" did what I predicted they would do.  I was correct, though I take no joy in that fact.  At Instapundit, Glenn has this post up.  Most interesting to me isn't the fact that the court rejected the argument, nor what the experts think about that.  It is the comments on the article, which are currently well over 1100.  A sample of them follows.
I have been pondering a reaction to this news. Fairly simple. It's time to get serious.
How so? Whatcha gonna doo?
Insurgency.
It's time to finally accept the fact that we have a corrupt Federal government that prosecutes not based upon the rule of law, but based upon politics. We cannot rely on what is right or what is legal to save us.
Circle the wagons.  This may get froggy.
https://www.captainsjournal.com/2020/12/11/supreme-court-rejects-texas-election-lawsuit/
Supreme Court Rejects Texas Election Lawsuit.
"The Supreme Court, 7-2, voted to deny Texas AG Paxton's motion for leave to file its election complaint. Justices Alito and Thomas would grant Motion for Leave, but provide no other relief."
The statement that Texas lacks standing would seem to implicitly overrule Massachusetts v. EPA, a case that found expanded standing for states, though in the "Climate Change" context. But then, I've told my students that I doubt that case stood for more than climate change hysteria's ability to influence John Roberts.
The appeal of dismissing on standing grounds, of course, is that the Court won't have to deal with any of the factual allegations.
https://pjmedia.com/instapundit/419713/#respond
Texas, et. al., Before The Supreme Court On Election 2020 Fraud
BY HERSCHEL SMITH, 22 hours, 18 minutes ago
https://www.captainsjournal.com/2020/12/10/texas-et-al-before-the-supreme-court-on-election-2020-fraud/
Comment on article after SCOTUS rejects Texas case.
On December 11, 2020 at 8:57 pm, 173dVietVet said:
Unfortunately you are 100% spot on in your prediction of the cowardice that the Supremes were to display.
Alito and Thomas wanted the hear the case and the other three supposedly conservative COWARDS failed in their duties.
The Constitution is crystal clear as is a Congressional statute, that cases between states must be brought before the Supreme Court and nowhere else.
Thinking they will not be the cause of the start of America's Third Civil War, these three cowards: Gorsuch, Kavanaugh and Barrett will be the ones that light the match that sets of the conflagration !!
It didn't have to be this way, but now that it is, the fury of the Awakened Saxon will be unleashed (see Kipling's poem).
May Almighty God Have Mercy On All Of Our Souls !!!!!!!!!
END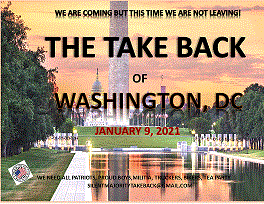 Pete
@Hellscomingforantifa
https://parler.com/profile/Hellscomingforantifa/posts
Joined Parler on Jun 25, 2020
Former Marine 0311! Currently running an organization designed to combat the leftist war that started 6 months ago. MAGA!
Left a commie state for Free America 6 years ago.
Posted Nov. 21, 2020
Why we are going to DC and why we are going to stay until the election is counted correctly
The Second American Revolution is here.
The Second American Revolution Is Here
November 20, 2020 Political Moonshine
https://politicalmoonshine.com/2020/11/20/the-second-american-revolution-is-here/

Major aspects from Powell's statement:
Massive influence of communist money in Venezuela, Cuba and likely China in the interference with U.S. elections
"Dominion Voting Systems, the Smartmatic (SGO) technology software (in particular)…were created in Venezuela at the direction of Hugo Chavez."
Signed affidavit from a witness is attached to Wood's GA lawsuit; "It is a stunning, detailed affidavit because he was with Hugo Chavez while he was being briefed on how it works…he was with Hugo Chavez when he saw it operate to make sure the election came out his way…that was the express purpose for creating this software."
Witness identified multiple state shutdown of voting on election night as comporting with Dominion/Smartmatic's modus operandi.
"One of its most characteristic features is its ability to flip votes."
Algorithms switched votes from Trump to Biden and were discovered due to Trump's enormous landslide vote totals that "broke the algorithm" and prevented it from working as designed. This is the cause of the multiple state shutdown of votes.
At the moment of shutdown, the states literally hauled in fraudulent mail-in ballots through the back door to augment Biden's totals.
Mail-in ballots were fabricated; many on pristine paper with perfect markings.
Ballots are delivered in "batches" and the same batches were being run and counted multiple times to rack-up votes
Statistical evidence corresponds to eyewitness testimony which corresponds to the infusion of fraudulent mail-in votes.
Dominion executives are "notably" not able to be located and offices are being moved.
The Dominion Toronto office shared with Lord Mark Malloch-Brown (Soros)
Dominion leadership ties directly to the Clinton Foundation
Smartmatic is foreign owned (Antonio Mugica of Venezuela has controlling shares and all of the owners remain unknown; not provided by the company being hidden in a web of off-shore hidden entities.
Smartmatic previously acquired Sequoia Voting Machines.
Smartmatics foreign positioning relative to its ownership of U.S. voting machines presents a national security threat.
Again citing Maloney, Warren and Klobuchar, Powell questioned how these systems could be integrated into the U.S. electoral systems unless U.S. "3-letter agencies" were leveraging the systems in other nations, which they were.
Smartmatic patent holder (Smartmatic "leadership") Eric Coomer is on record in a conversation with Antifa members saying, "He had the election rigged for Mr. Biden. Nothing to worry about here. They were going to F-Trump."
Dominion is used 2,000 jurisdictions and 30 states
Votes can be determined by ratio: Trump .75, Biden 1.25 per actual vote. "Those may be the numbers actually used here.")
Algorithm likely run across the entire country.
Evidence of votes being injected into the system 20 minutes apart and using the same unique 6-digit number multiple times (in at least 2 states so far.)
No oversight of Dominion or its software
Software features include "drag and drop" features to add or delete votes and with evidence of massive amounts of Trump votes being "trashed" and Biden votes being "injected."
2 primary drivers: the algorithm running to flip votes in real time and the access each operator has to interface with the systems to make essentially any desirable changes.
Evidence of benefits paid to people who spent $100 million dollars at the last minute to acquire Dominion/Smartmatic systems for individual states for this election.
The code for responsible for the alterations has been embedded in the source code found in voting machines across the entire country.
Posted Nov. 22, 2020
OATH KEEPERS
Oath Keepers and patriots, duty calls!
We must all march on Washington D.C. and directly back-up and defend President Trump as he fights against the ongoing coup that is attempting to steal the election.   Start rolling toward DC now!  Join in on:
 Million MAGA rally scheduled in Washington D.C. this Saturday, November 14, 2020, 1301 Pennsylvania Ave, at 12pm.
Infowars Stop the Steal Caravan!  Owen Shroyer is leading a caravan of patriots across the nation to converge on D.C. this Friday and Saturday, to converge and join in with the other rally initiatives, all standing together on Saturday. 
Go to www.stopthestealcaravan.com to learn more.  
WE WILL BE THERE, in D.C., and we urge YOU to be there!
OATH KEEPERS VOLUNTEER SECURITY OP
FOR WASHINGTON D.C.
Oath Keepers is sending some of our most experienced LEO and military combat veterans into D.C. to help keep patriots safe this Saturday, and in the days to come.   Oath Keepers is linking up with the Infowars Stop the Steal Caravan and with the organizers of the Million MAGA event, and we will do all we can to assist with volunteer security on the ground inside D.C.
Oath Keepers will also have some of our most skilled special warfare veterans standing by armed, just outside D.C., as an emergency QRF in the event of a worst case scenario in D.C. (such as a "Benghazi" style assault on the White House by communist terrorists, in conjunction with stand-down orders by traitor generals).
Our men will be standing by, awaiting the President's orders to call us up as the militia, which would override D.C.'s ridiculous anti-gun laws (by federal statute, all Americans from age 17-45 are subject to being called up as the militia by the President, and all military veterans are subject to being called up until age 65 because of our training and experience).  – Stay tuned for further details.
We call on all our LEO, military, Fire, EMS, and search and rescue brothers and sisters nationwide to also volunteer, either for the inside D.C. security op, or for the outside D.C. contingency QRF.   You do NOT have to be an Oath Keepers member to volunteer, but you do need to be a trained professional.   All military and LEO veterans are encouraged to volunteer (we will put you to work!), but we especially need combat arms veterans, SWAT and riot trained LEOs, EMS, Fire, intel personnel, logistics, EOD, etc.    You must be cool and calm under pressure, disciplined, and a quiet professional.
NOTE: For the volunteer security op inside D.C., to protect rally attendees, we also invite the participation of other patriot groups, such as bikers, who are not prior service but who have training, backgrounds, or experience that give them a capacity to effectively deal with unlawful physical violence by leftist terrorists.  But, again, you must be calm under pressure and committed to the ethos of the quiet professional.   We have found that it un-nerves the leftists to have to deal with stone-faced patriots who don't react to them running their mouths, but who are eminently capable if things turn physical.   Remember, the eyes of the nation, and the world, are on us.
To volunteer, email us at:  dcvolunteers@oathkeepers.org  
Please also cc our backup volunteer email:  dcvolunteers@protonmail.com 
Please let us know what state you are from, and whether you want to serve inside D.C. or on the outside QRF, or both.
You will go through a comprehensive vetting process, including in-person.   Again, we welcome the participation of like-minded groups and their leadership, whether veteran groups, three percenters, bikers, etc.  Please have your leadership contact us and we will work with you, as we have on many past operations.
If you can't make it to D.C. in person, please donate to support those who can.   We have brave veterans who are traveling there from across the nation, and they need your support to maintain their watch until we prevail.   Go here to donate:
ALL PATRIOTS MUST MARCH ON D.C. NOW!
We encourage ALL patriots to join together in D.C., beginning this Saturday, November 14, 2020.   (NOTE: You do NOT have to be vetted to attend the protests/rallies.   Just sh0w up.  Vetting is only for those who want to be part of the Oath Keepers security op.  Nor do you need to be prior service. ALL patriots need to show up).   Understand that this Saturday's march/rally is just the beginning, and there needs to be a strong, ongoing patriot presence in D.C. going forward.
At a Stop the Steal protest in VA this past Sunday, we met elderly ladies who have been protesting in D.C.  If they are brave enough to enter D.C. to stand up, so can you.  Show up.  Those of us who are more able-bodied will help keep you save.
This election was stolen and this is a communist/Deep State coup, every bit as corrupt and illegitimate as what is done in third world banana republics.    We must refuse to EVER recognize this as a legitimate election, and refuse to recognize Biden as a legitimate winner, and refuse to ever recognize him as the President of the United States.   This election was stolen by corrupt, law-breaking Democrat partisans on the ground, and by the manipulation of the CIA created HAMMR ("Hammer") and Scorecard programs.
WHAT PRESIDENT TRUMP MUST DO
TO DEFEAT THE DEEP STATE COUP
A.  President Trump must refuse to concede.   No matter what, he must not concede.  This election was stolen by domestic enemies.  Period.  President Trump must refuse to recognize it as legitimate because it is not legitimate.  He must follow the advice Hillary Clinton gave to Biden – to refuse to concede, no matter what.    But by President Trump refusing to concede, he is stopping a coup rather than engaging in one.
B.  President Trump MUST declassify ALL of the dirty secrets in the files of the CIA, NSA, FBI, ODNI, etc. on all of the compromised political, legal, academic, business, media, social elites, etc.   He needs to order our Special Operations troops in SOCOM to take lead on securing all facilities where all the data is stored, and he must have SOCOM intelligence officers take lead on following his orders to IMMEDIATELY declassify all of the files on compromised American elites, so we can defeat the Deep State.   The dirty secrets  – who is a pedophile, who has taken bribes from Communist China and other foreign enemies, who has engaged in murder, etc, are the swam water that the swamp creatures swim in.  It is how they are all both controlled and protected.  So long as they obey the Deep State, they are immune from exposure and prosecution.  If they dare to refuse to obey the Deep State, they can be destroyed by it in a matter of seconds.   That is how the Deep State controls people.  That is the root of its power (along with the Federal Reserve control on the financial system).  And President Trump must strike at the root.
C.  President Trump must do a MASS "WIKILEAKS"/SNOWDEN STYLE DATA DUMP.   Both Julian Assange and Eric Snowden were heroes in the fight against the Deep State precisely because they dared to do what the Deep State fears most – exposure.   The Deep State can throw such patriots into prison.   But, it can't stop the President of the United States, the Commander-in-Chief, from declassifying and dumping ALL of the Deep State's dirty laundry.  He has absolute authority to declassify anything he wants, and to disclose it to the American people.  And he needs to do that for corrupt, compromised elites of both major parties.   There are GOP traitors too, and they have undermined and worked to destroy our nation from within, right along with the domestic enemies within the Democratic Party and the communist left that is not dominating that party.   Expose them all, once and for all.   And may the heavens fall (it will be the Deep State that falls).
This is his final, last chance to actually drain the swamp.
WHAT WE THE PEOPLE MUST DO
A patriot from Serbia, who also loves America, shows us the way: