United Patriots of America
Founded December 2001 in response to 911
UPA Report
Sunday December 27, 2020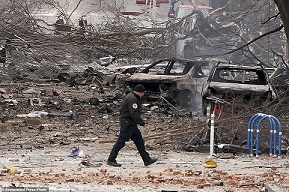 Special article
Will Pence be loyal and stand up on Jan. 6th in Congress
https://www.unitedpatriotsofamerica.com/?p=4302
WHY NASHVILLE? WHY ATT?
Here's your answer.
Room 641A is a telecom intercept facility operated by AT&T for the U.S. NSA, as part of its warrant-less surveillance program, Patriot Act.
What part of the country does this "hub" cover?   GEORGIA.
https://twitter.com/SuicideSeattle/status/1342635490936115201

Something to think about in regard to the AT&T and Sun Gard Data Center that could have been the actual Nashville
target.  Data centers are not self-contained, especially when operated by companies like these.  They are replicated in multiple locations,
typically geographically dispersed to safeguard against national disaster.  You can lose a data center….even a region…and the data is safeguarded elsewhere.
Nashville Rumor is that AT&T got the contract to do the forensic audit on the Dominion machines. Many are being transported to the Nashville location this weekend…
By Edward Jones on twitter.originally posted 4 days ago, could be a coincidence.(no source, unconfirmed.)
Dominion connection
Tariq Nasheed 🇺🇸@tariqnasheed
This might just be a strange coincidence…but The ATT building in Nashville that was blown up today was owned by Cerebus
Capital.  Owners of Dominion Voting Systems,(the company many people are accusing of voter fraud) are former executives from Cerebus.
https://twitter.com/tariqnasheed/status/1342660280245837824

AT&T outage continues into Saturday, no timeline for full restoration
https://www.newschannel5.com/news/at-t-outage-reported-across-tennessee-kentucky-some-ems-phones-down

President Trump Makes the Tough and Correct Call on the Blackwater Pardons
By streiff | Dec 24, 2020 6:30 PM ET
https://redstate.com/streiff/2020/12/24/299739-n299739

Lincoln Project Taunts Trump, Says Mike Pence Is Running Away 'From Your Train wreck'
Brendan Cole  3 days ago
This is the ad that has @realDonaldTrump turning on @VP @Mike_Pence … it would be a real shame if he had to see this over and over and over again… pic.twitter.com/4tulp5m4OP — The Lincoln Project (@ProjectLincoln) December 22, 2020
https://www.msn.com/en-us/news/politics/lincoln-project-taunts-trump-says-mike-pence-is-running-away-from-your-trainwreck/ar-BB1cb5qV

 Trump pardons officer imprisoned for dog bite along with three former Border Patrol agents
https://www.lawenforcementtoday.com/trump-pardons-officer-imprisoned-for-dog-bite-along-with-three-former-border-patrol-agents/#more-157436

Rudy Giuliani: "You're going to find it out all at once – it's going to be very shocking to the country"
https://welovetrump.com/2020/12/24/rudy-giuliani-youre-going-to-find-it-out-all-at-once-its-going-to-be-very-shocking-to-the-country/

White House Tells Trump Staff to STOP Packing Up: "Updated information will be shared in the coming days"
https://welovetrump.com/2020/12/23/white-house-tells-trump-staff-to-stop-packing-up-updated-information-will-be-shared-in-the-coming-days/?utm_source=website_link_trending2

 Trump Reportedly Offered Attorney Sidney Powell Special Counsel Position But Now His Closest Aides Are Blocking Her from President
https://www.thegatewaypundit.com/2020/12/breaking-trump-reportedly-offered-attorney-sidney-powell-special-counsel-position-now-closest-aides-blocking-president/

 New York Gym Owner Gets Huge Court Win Over Cuomo's COVID-19 Restrictions
by John Hawkins Posted: December 24, 2020
"This is a huge win. The fact that the precedent has been set that we can open at full capacity, so long as we abide by the safety guidelines and protocols that do work, that's a huge win."
https://bongino.com/new-york-gym-owner-gets-huge-court-win-over-cuomos-covid-19-restrictions

  2020 ELECTION
Sidney Powell Says White House Aides Are Blocking Her Efforts to Help Trump
BY TOM OZIMEK December 25, 2020 Updated: December 25, 2020biggersmaller Print
https://www.theepochtimes.com/sidney-powell-says-white-house-aides-are-blocking-her-efforts-to-help-trump_3632491.html

'Looks like a bomb went off': Blast that rocked downtown Nashville on Christmas morning WAS intentional say cops as FBI are called in after 'vehicle' detonates outside bars sending three to hospital
https://www.dailymail.co.uk/news/article-9087589/Bomb-squad-called-RV-explodes-Nashville.html

Nashville
Rumor is that AT&T got the contract to do the forensic audit on the Dominion machines. Many are being transported to the Nashville location this weekend…
By Edward Jones on twitter. originally posted 4 days ago, could be a coincidence.(no source, unconfirmed.)
That is the definition of a National Security Crisis. Patriots and President Trump must take   ALL   action necessary to retain a unified
Republic.
John Guandolo – Understanding the Threat.
https://www.understandingthethreat.com/u-s-election-fraud-national-security-crisis/

Situation Update – Calls grow for Insurrection Act, window of opportunity Dec. 18th – 24th
By Mike Adams -December 15, 2020
Increasing calls for Trump to invoke the Insurrection Act, coming from attorney Lin Wood, The Epoch Times, Gen. McInerney and many others. Sidney Powell says clear evidence of foreign interference allows Trump to invoke his 2018 EO and seize all the assets of corporations and individuals who were complicit in the election rigging.
https://www.dcclothesline.com/2020/12/15/situation-update-calls-grow-for-insurrection-act-window-of-opportunity-dec-18th-24th/

We Must Have A Special Counsel For Voter Fraud!
BY Herschel Smith, 3 hours, 14 minutes a
He trusted the deep state vipers with whom he surrounded himself.
https://www.captainsjournal.com/2020/12/24/we-must-have-a-special-counsel-for-voter-fraud/

8,156 appointed managers in 75 federal agencies obstruct the President and will of the people.
THE DEEP STATE-SHADOW GOVERNMENT HAS A NAME. START USING IT. START EXPOSING THIS ENEMY
OF AMERICA TO YOUR FRIENDS, FAMILY, AND SOCIAL MEDIA NETWORK.
Is your news source explaining what the "deep state" is or are they hiding behind sloppy research, propaganda, or worse – they are keeping you from TRUTH and FULL DISCLOSURE. Taxpayers pay these bureaucrats fat salaries, bonuses, and
lots of government perks. What do they do? Thwart the will of the American people, obstruct the rule of law, commit treason with impunity, and make life a living hell for our President. What are you going to do now that you have been enlightened?
https://aim4truth.org/2019/10/24/senior-executive-service-white-collar-traitors/

Obama's Secret Stay Behind Army
https://stpaulresearch.com/2019/10/31/obamas-secret-stay-behind-army/

UPA Report more Part 2  (more articles and info)
https://www.unitedpatriotsofamerica.com/?p=4294

Follow the UNITED PATRIOTS OF AMERICA (UPA)
Twitter – http://twitter.com/ronbassUPA  
Facebook – www.facebook.com/UPA.RonBass
http://www.UnitedPatriotsOfAmerica.com 
E-mail – ronbass2010@comcast.net