United Patriots of America
Founded December 2001 in response to 911
UPA Report
Sunday, September 7, 2014
November elections are coming.
U.S Military needed to secure our borders.
An increasing number of US veterans are on the border now and more are going to uphold the oath they took to defend this country and the Constitution since our government officials have abandoned us and are derelict in their duties.
Scroll down and scan to see how to support these vets and non-vets on the border.
ISIS the new wannabe Islamic Caliphate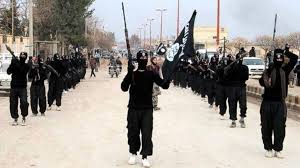 Real Homeland Security Begins at Home
Send U.S. Military to the Border & begin Interior enforcement of our Immigration laws.
All 50 States are Border States.
It is a deception to say we only have 4 Border States.
Quote from Mike Cutler

 http://michaelcutler.net/  

 speaking at the Middlesex County Woman's Republican Club in NJ

Published on Feb 9, 2013
Former FBI Counter Terrorism Agent states that President Obama's next CIA
Director, John Brennan, has been co-opted by the Muslim Brotherhood and has
converted to Islam.
As the anniversary of 9/11 approaches and ISIS establishes itself in Juarez, there's no question the El Paso Army base is vulnerable, military experts told JW this week."
ISIS Reportedly Targets Fort Bliss In Texas
Judicial Watch President Tom Fitton maintains that "Ft.Bliss, which is perhaps our nation's most important domestic military base, is now a forward operating base facing a threat from Islamist terrorism as a result of our unsecure southern border. The major media, who were quick to promote the Obama administration's 'denial' of our report detailing the real threat of a terrorist attack on the border, have yet to pick up on the extraordinary security measures taken at Ft. Bliss in recent days."
According to oneTexasrancher, the Gateway Pundit reports, politicians have not been straight with the American people about how violent drug cartels/narco terrorists have taken over portions of the borderlands. The same rancher also claims that he has personally spoken to Border Patrol agents who have detained individuals trying to enter theU.S.illegally who hail fromSomalia,Iran,Iraq, andSyria.
http://www.inquisitr.com/1455519/isis-reportedly-targets-fort-bliss-in-texas/
Separately, the chairman of the U.S. Joint Chiefs of Staff has ominously admitted that open borders and immigration provides an opportunity for ISIS terrorists to enter the country.
If the Chairman has admitted this then he should send our US military to the border to protect our homeland.
It is pure hogwash to use the rule of "posse comitatus" which does limit military involvement domestically but there are exceptions and border security is one of them. To that point using our military on our International Border against foreign trespassers/invaders is legal.
Despite the proximity of this large Army post to the Mexican border, the Obama administration has shown no inclination to deploy the National Guard or active duty military assets to assist the overwhelmed Border Patrol in sealing off the border from a surge of illegal immigrants from Central America as well as all over the world, including apparently from the Middle East, many of whom are getting into the country undetected.
Until we throw off the chains of the politically correct governing elite and their lapdog media we will continue to degrade as a nation. The multi-cultural globalists' ideology fails to see that allowing large numbers of legal or illegal migrations from various cultures into their countries will result in national suicide. Within the next 20 years Europe and Great Britainwill become majority Muslim. Unless a political or military 180 takes place her,e the U.S will follow suit.
In the following article the German Chancellor has acknowledged the problem but it appears no steps have been taken to correct the situation.
Not much has been mentioned about the problem Russiahas with their Muslim population. It turns out that Moscowhas the 2nd largest Muslim population 2.5 million of any European country 2nd only to Turkey. A book titled "Implosion: the End of Russia and What it Means for America" by Ilan Berman exposes the coming threats inRussia that have not been discussed.
Angela Merkel: German multiculturalism has 'utterly failed'
 Sunday 17 October 2010, The guardian.com,
The German chancellor, Angela Merkel, has courted growing anti-immigrant opinion inGermanyby claiming the country's attempts to create a multicultural society have "utterly failed".
http://www.theguardian.com/world/2010/oct/17/angela-merkel-german-multiculturalism-failed
Lesson of the 'Mad Mullah,' the original beheading jihadist
By Amir TaheriSeptember 7, 2014 | 12:21am
Sheikh Hassan was dubbed "the Mad Mullah" and made a habit of capturing and beheading as many Brits as he could get hold of. Among his victims were a British commander Col. Richard Corfield and 57 of his men.
The fight against the Mad Mullah was to last more than seven years simply because Asquith insisted on a "discrete" approach. Force could be used but only in homeopathic portions, enough to keep the caliph busy but not enough to extinguish his jihadi ambitions.
http://nypost.com/2014/09/07/meet-the-mad-mullah-the-original-beheading-jihadist/
The

Jihadi

Serial Killer No One's

Talking

About
by Michelle

Malkin


For two bloody months, an armed jihadist serial killer ran loose across the country. At least four innocent men died this spring and summer as acts of "vengeance" on behalf of aggrieved Muslims, the self-confessed murderer has now proclaimed. Have you heard about this horror?

Probably not.


http://michellemalkin.com/2014/08/22/the-jihadi-serial-killer-no-ones-talking-about-plus-read-the-charging-documents/
TOM DELAY: OBAMA PARALYZED BY MUSLIM SYMPATHIES
ISIS failure attributed to religious background, ideology, incompetence
NEW YORK – President Obama's left-leaning political ideology combined with sympathies for Islam acquired from being raised by a Muslim stepfather paralyze him as he faces the threat posed by the Islamic jihadist group ISIS, former House Majority Leader Tom DeLay told WND in an interview.
http://www.wnd.com/2014/09/tom-delay-obama-paralyzed-by-muslim-sympathies/
BACHMANN: OBAMA 'WILLFULLY BLIND' TO ISLAMIC TERROR
'War has been declared … kill them until they raise the white flag'
Political correctness and a "willful blindness" are preventing the FBI from rooting out Islamic jihadists that continue to make headlines in her home state ofMinnesota, says Republican Rep. Michele Bachmann.
http://www.wnd.com/2014/09/bachmann-obama-knew-about-isis-threat-many-months-ago/#yv6erYRC5c31IuTX.99
AMNESTY
Obama to Delay Executive Action on Amnesty Until After Elections, Fearing Huge Losses for Dems,
http://www.foxnews.com/politics/2014/09/06/obama-to-reportedly-delay-any-executive-action-on-immigration-until-after/
More
Study 1 In 10 California Workers Are Illegals – Wake Up America – Cavuto
Michael Cutler, a former INS special agent discusses that statistic with Neil Cavuto.
https://www.youtube.com/watch?v=p5HFGN-Cbog
Pat Condell: No Peace in the Middle East? Blame Israel –

תרגום

לעברית
https://www.youtube.com/watch?v=cYmB38n1Y6Q
Why Abortionists, Islam, and Homosexuals Will Ultimately Lose
http://godfatherpolitics.com/16777/abortionists-islam-homosexuals-will-ultimately-lose/
  Prepping
Prepping 101 – A Step By Step Plan for How to Get Started Prepping – pt.1
Step 2 – Water
A good rule of thumb for water storage is to have one gallon per person per day. This includes cooking and cleaning, but that amount could change depending on the weather, the health of the individual and the physical activity they are participating. Still, one gallon is a good rule and it is simple to figure out. I like nice round numbers.
http://www.theprepperjournal.com/2013/06/12/prepping-101-a-step-by-step-plan-for-how-to-get-started-prepping-pt1/
---
A STATE OF EMERGENCY CONTINUES TO EXIST ON OUR INT'L BORDER.
We do not have operational control.
U.S. military needed there.
America is now a failed state.
Our homeland is being invaded by criminals and trespassers with diseases along with other assorted undesirables, many of whom will eventually wind up in your state and all the media shows us is pictures of little children.
Go to the border and defend your homeland or send money until such time patriots are replaced by our nations U.S. Military.
Our financial support enables more patriots to make the trip.
 
The U.S. Federal Border Patrol and their rules of engagement are not up to the task.
Patriots patrolling the border – join them or send money.
Gofundme
Camp Lone Star – DTOM
Thanks to those that have recently donated and/or shared the gofundme link! It is so very much appreciated! These guys and gals out there in the heat day and night are blessed to have your support! Please continue to share the link and donate when you can. Big or small, every bit adds up! ALSO, boots on the ground are still very much needed as well as I have a physical address should you want to directly send them gas cards or care packages. PM me on Facebook for the information! 
Thanks 🙂
http://www.gofundme.com/6qq73k
Cap't O'Shaunessey AZ
Who we are: We are a groupe of Patriots made up of.ex Police, Millitary,Firefighters, EMT's, Paramedics, Department of Corrections. And many other public service agencies.
And we are tired of the goverment not inforcing the laws of this Country, And refusing to secure our borders.
http://www.gofundme.com/cwcpbw
---
Patriots Information Hotline – UPDATE
Patriot Information Hotline
Do you feel something is wrong inAmericatoday? Are you a Fed up? Join us for discussions on this.
*~* 8-23-2014 UpDate *~*
Call line 24/7 559-726-1300 access 639939#
http://patriotsinformationhotline.com/  
---
Fighting tyranny in America 2014
Nonviolent resistance (NVR or nonviolent action) is the practice of achieving goals through symbolic protests, civil disobedience, economic or political noncooperation, or other methods, without using violence.
24/7 boycott of corporations.
They take our money and give it to the political elites to trash our Constitutional Republic.
Fight back. Don't spend your money with them.
Rules of Engagement – Get SASSY
Save America – Shop Smart Y'all
The tyranny emanating from the political, corporate and media world survives because we fund them by doing business with them.
We are actually financing our own national suicide by spending our money every day with them.
Do not spend money with your political enemies.
Avoid corporations, seek out small local businesses
Avoid mainstream media seek out alternative media.
Do business with like minded patriots.
Save America – Shop Smart Y'all (SASSY)
---
 New Jersey
The Saturday Morning Project
An illegal alien labor area behind the Bergenfield, NJ police station.
Location: UPA Bergen County – Bergenfield/Dumont line. 8AM – 10AM
No Eyewitness report for 9.06.14
Peacefully Protesting the U.S. Governments Inability to Control Our Borders
Patriots:
Illegal Immigrants:
Number of Patriots on the line:
Church group: Yes. 2 different groups
Pick ups:  
Pro-illegal immigrant counter protesters present today: 0
Police Presence:
Number of thumbs up and horn honks from those in automobiles: 
Number of middle fingers displayed:  
Number of thumbs down:
Number of hysterical rants from those who don't agree with our peaceful protest:  
---
New Jersey
Bell can beat Booker.
Candidate for NJ Senate Bell can beat Senator Booker.
Call the Republican Party and tell them to sendBellmoney to win this election in order to take back the Senate from the loony Senator Reid and the Democrats.
Bell for Senate   https://www.facebook.com/BellforNJ
---
Never give in — never, never, never, never, in nothing great or small, large or petty, never give in except to convictions of honour and good sense.
Never yield to force; never yield to the apparently overwhelming might of the enemy.
Sir Winston Churchill, Speech, 1941, Harrow School
---
I am only one, but I am one. I cannot do everything, but I
can do something. And because I cannot do everything, I will
not refuse to do the something that I can do. What I can do,
I should do. And what I should do, by the grace of God,
I will do." ~ Edward Everett Hale
Ron Bass
---
Follow the UPA on
Twitter
http://twitter.com/ronbassUPA
Facebook
www.facebook.com/UPA.RonBass
Ron Bass
UNITED PATRIOTS OF AMERICA
Subscribe to the UPA Report
Web site is now operational.
http://www.UnitedPatriotsOfAmerica  com
E-mail – ronbass2010@comcast.net