United Patriots of America
Founded December 2001 in response to 911

UPA Report
Sunday August 18, 2019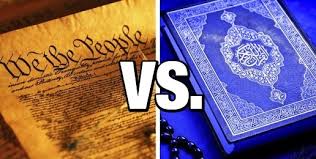 US Constitution VS Sharia Law
Tlaib and Omar: Ineligible to hold public office in America
August 16, 2019, David L. Rosenthal
Tlaib and Omar's support for Hamas, who are self-defined as enemies of Israel, America, and civilization, also defines Tlaib and Omar as enemies of America, of its Constitution, of its values, norms, and institutions, and as ineligible to hold public office, per American law.
https://www.americanthinker.com/blog/2019/08/tlaib_and_omar_ineligible_to_hold_public_office_in_america.html
What to know about Saturday's protests in Portland
A rally organized by far-right group the Proud Boys is expected to draw opposing left-wing Antifa demonstrators in a clash that has garnered national attention.
https://www.kgw.com/article/news/local/what-to-know-about-saturdays-protests-in-portland/283-7d312b7a-72a5-47f2-8512-ac6a4478bf24
Antifa will be counter protesting the Proud Boys.
https://www.facebook.com/KOMONews/videos/433545914035889/UzpfSTExNDg0MjQ1ODY6Vks6MjEyODgyNDE5Mzg5MzkzNQ/?multi_permalinks=2128824193893935%2C2128799020563119&notif_id=1566068098069114&notif_t=group_activity
 Trump cannot defeat the left alone. He needs our help.
TAKE ACTION – Stop using Google as your search engine.
Google blacklists American Thinker
August 15th 2019
https://www.americanthinker.com/blog/2019/08/google_blacklists_american_thinker.html
Why a Banking Heiress Spent Her Fortune on Keeping Immigrants Out
https://www.msn.com/en-us/news/us/why-a-banking-heiress-spent-her-fortune-on-keeping-immigrants-out/ar-AAFNPSB?ocid=spartandhp
UNDERSTANDING THE THREAT      THE GREEN AXIS
 In Wars, Knowing the Enemy & Taking Bold Action Are Keys to Victory. Please read this carefully excellent info
August 13, 2019
Appeasement, weakness, and cowardice never won a war.
 Today's republican "leaders" around the United States, from local officials to Governors to
Members of Congress to the national GOP leadership have failed and refused to speak about the threat Islam poses to America and its citizens.
With the exception of the President himself, republicans have chosen to avoid "controversy" and
"conflict" in order to "find common ground" in the issues America faces today.
 How do people who have sworn an oath to "protect and defend" the Constitution of the United States "against all enemies, foreign and domestic" find common ground with Marxists and jihadis?
Marxism calls for the destruction of Christianity and the overthrow of all governments not based in
Marxism – the root of socialism and communism. This totalitarian ideology necessarily destroys individual liberty and drives societies towards slavery and impoverishment.
Islam demands all humans on the planet submit to "Allah's divine law"/sharia, voluntarily or
through coercion. Those who do not submit must be killed. There is no other authoritative "version" of Islam taught anywhere at any Islamic school on earth and there never has been.
When engaged in a war, the decision to avoid conflict and controversy is tantamount to
surrendering. That is what the GOP has done across the board.

Not to engage these enemies in a time of war is equivalent to surrender.
Encourage your local, state, and national republican leaders to understand the threat, speak truth boldly about the threat, and join UTT in implementing the victory strategy to WIN this war.
https://www.understandingthethreat.com/in-wars-knowing-the-enemy-taking-bold-action-are-keys-to-victory/
"War is deceit."  Mohammad (Bukhari Vol 4, Book 52, hadith 269)
Imam of Peace?
August 15, 2019, Written by Stephanie Ameiss
Islam declared war against the West in general and the United States specifically.
The largest part of this war is not being fought on the battlefield with tanks, artillery and infantry, nor on the streets against police with rifles and explosive vests.
Americans will be better prepared for what is coming if they learn what is already inside America. This war is a war of narratives versus the truth.
One narrative says "Islam is a religion of peace" and, despite the magnitude of the objective untruth of this statement, many people believe it.
Opposing this narrative is the truth of core Islamic doctrine taught to muslims children all over the planet in Islamic schools.
In the war of narratives, the Islamic Movement seeks to present the image that the "moderate"
muslims are a much better option than the violent jihadis of ISIS, Al Qaeda, Hamas, Hizbollah, et al,
thus driving American leaders into the arms of "suit-wearing jihadis" with whom they can and do work.
They are not. Moderate Muslims are not a better option.
https://www.understandingthethreat.com/imam-of-peace/
Sharia's incompatibility with America on display
Islamic law based on the Koran can't coexist with the U.S. ConstitutionToo many unanswered questions? Indeed. But on this, the silence speaks volumes. Sharia is completely incompatible with the Constitutionand with U.S. freedoms, as forged, interpreted and upheld by ourJudeo-Christian founding.
https://www.washingtontimes.com/news/2017/jun/10/sharias-incompatibility-america-display/
New details in Dayton, Ohio Shooting
OAN Newsroom UPDATED 7:18 AM PT
In the aftermath of the mass shooting in Dayton, Ohio,
authorities are now saying the gunman had several substances in his system at the time of the attack. On Thursday, the Montgomery County Coroner's Office announced Connor Betts had anti-depressants, cocaine and alcohol among other chemicals in his body.
https://www.oann.com/new-details-in-dayton-ohio-shooting/ 
MARK RAZZOLI
Old Bridge Democrat Councilman Mark Razzoli was previously on record opposing Governor Phil Murphy's Sanctuary State.
 This week, at an Old Bridge council meeting, he passionately accused politicians of "obstructing justice" for tweeting and sharing information advising illegal aliens how to avoid detention during an ICE raid. Razzoli also declared that sanctuary statehood is really about "identity politics," not public safety, and part of socialists' plan "to shame the public into believing that anyone who opposed them are racist or xenophobic haters."
https://www.youtube.com/watch?v=QDbaXrkuFcY&feature=youtu.be
'Don't go out alone': Swedish police warn women after
our rapes in four days
9 Aug, 2019 14:09
https://www.rt.com/news/466161-sweden-rape-police-warning/
RED AXIS
Hollywood Studio Cancels 'The Hunt' Movie Release After Criticism
Posted on August 12, 2019
https://www.reuters.com/article/us-film-the-hunt/hollywood-studio-cancels-the-hunt-movie-release-after-criticism-idUSKCN1V00TG
Some North Carolina Sheriffs Refuse to Comply with ICE. Republicans Have a Plan to Thwart Them.
Posted on August 12, 2019
https://www.motherjones.com/politics/2019/08/some-north-carolina-sheriffs-refuse-to-comply-with-ice-republicans-have-a-plan-to-thwart-them/
BROWN AXIS M.E.Ch.A. National Conference 2019
https://nationalmecha.blogspot.com/
A Bloody "Gringo" Backlash to Aztlan
Cliff Kincaid, News With Views, August 9, 2019
If the alleged El Paso killer's so-called manifesto against Mexican "invaders" is to be taken seriously, what we have seen is a bloodthirsty backlash to a well-established political movement that seeks to diminish the influence of white voters and replace their role in American society with that of brown people and other designated minorities. This
political movement favors free health care, free college, and public housing for illegals, in order to entice them to enter the U.S.
https://newswithviews.com/a-bloody-gringo-backlash-to-aztlan/
Violent Gangs Saturate El Salvador From Top to Bottom
August 12, 2019
https://www.courthousenews.com/violent-gangs-saturate-el-salvador-from-top-to-bottom/
About America's Survival
Against great odds and fierce opposition, and facing smear charges of Islamophobia, McCarthyism, and homophobia, America's Survival, Inc. (ASI) brings the conservative message to millions of people both here and abroad through newsletters, books, reports, petition campaigns, and digital multimedia platforms.
http://www.usasurvival.org/
Stand Against Tyranny
We are facing an very unnerving situation in Toms River on the School Board. One if it's members a Veteran who
served two tours in the Middle East is being ask to resigned due to his FB page. The CAIR Organization said he is racist and Islam-a-phobic due to a factual post about Rep. Omar.
This is not only false they are also violating his 1st Amendment Right. We need to support him in pushing back on these lies and not allow this to become the new precedence of our School Boards.
Please join me in Supporting Daniel P. Leonard and Pushing back on CAIR's (who have ties to Terrorism) agenda to promote Islamic Law in our schools and communities.
https://www.facebook.com/events/463762831141747/?active_tab=about
Attorney General Barr Says Any Epstein Co-Conspirators
'Should Not Rest Easy'
OAN Newsroom UPDATED 10:44 AM PT — Monday, August 12, 2019
https://www.oann.com/attorney-general-barr-says-any-epstein-co-conspirators-should-not-rest-easy
Restore the USA
http://restoretheusa.net/
PREPPING
Links To Prepping Plus
https://www.unitedpatriotsofamerica.com/index.php?s=prepping
Follow the UNITED PATRIOTS OF AMERICA (UPA)
Twitter – http://twitter.com/ronbassUPA  
Facebook – www.facebook.com/UPA.RonBass
http://www.UnitedPatriotsOfAmerica.com 
E-mail – ronbass2010@comcast.net