United Patriots of America
Founded December 2001 in response to 911.
With all this "gun control" talk, I haven't heard one politician say how to take
guns from criminals, just law abiding citizens.
UPA Report
Sunday June 05, 2022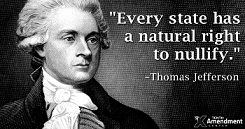 Nullification by the States of unconstitutional laws and enforcement of Constitutional laws, as in the Bill of Rights, is the only way the Federal Government will be stopped from destroying our Republic.
>>>
State nullification of unconstitutional federal laws and regulations is based on the recognition that sovereign states created the national government and
delegated to that government only those few powers enumerated in the Constitution. It would surely be helpful for the cause of liberty for this
intent to be reinforced along with acceptance of a state's right to nullify a bad federal law.
Nullification of Oppressive Federal Laws is Catching On
JBS Pres. JohnMcManus 7.14. 2014
Kansas state legislature enacted a law stating that some federal gun control regulations would not be obeyed in Kansas.
https://insidejbs.wordpress.com/2014/07/14/nullification-of-oppressive-federal-laws-is-catching-on/

Nullify the Feds
It's Time to Walk Away from a Hopelessly Corrupt Federal Government that Facilitates Biden's Destruction of America
By Lawrence Sellin, Gateway Pundit
The federal government is an entity unto itself operating outside of Constitutional constraints and unaccountable to the American people.
https://www.lewrockwell.com/2022/05/no_author/its-time-to-walk-away-from-a-hopelessly-corrupt-federal-government-that-facilitates-bidens-destruction-of-america/
The FBI is at this point a rogue, hyper-partisan organization….
By Robert Spencer – on November 17, 2021
The FBI is operating as a squad of enforcers for a lawless administration that appears bent on criminalizing dissent from its far-Left agenda. This behavior by Merrick Garland and the FBI is the behavior of a totalitarian state, not a free republic
https://gellerreport.com/2021/11/fbi-emails-garland-authorized-use-of-counterterrorism-tools-against-parents-who-oppose-crt-and-lied-to-congress.html/

No to Senate Republicans, the FBI Does Not Deserve a Raise
Rewarding the FBI with a half-billion in tax dollars would not just be a slap in the face to Republican voters but also to every victim of the FBI's shoddy, unaccountable practices.
By Julie Kelly, May 30, 2022
https://amgreatness.com/2022/05/30/no-senate-republicans-the-fbi-does-not-deserve-a-raise/
The Biggest Threat to the Second Amendment? RINOS
Americans are craving genuine leadership. They won't get that with weak-kneed Republicans who are looking for openings to compromise with the Democrats on our constitutional rights.
By Gavin Wax, June 1, 2022
https://amgreatness.com/2022/06/01/the-biggest-threat-to-the-second-amendment-rinos/
US troops should be deployed to our southern Border instead of to Somalia. We have no operational control of our southern International border.
US airstrike kills 5 terrorists in Somalia after Biden order
JUNE 03, 2022, RYAN MORGAN
On May 16, President Joe Biden ordered around 500 U.S. troops to deploy to Somalia to once again establish a "persistent presence" in the country. Biden's decision essentially reversed a decision President Donald Trump made in January 2021 to withdraw the majority of U.S. troops from the country.
https://americanmilitarynews.com/2022/06/us-airstrike-kills-5-terrorists-in-somalia-after-biden-order/
Ohio Will Allow Teachers to Carry Guns
Sarah Arnold: Jun 03, 2022 3
HB 99, which passed by a 23-9 vote in the State Senate and a 56-34 vote in the State House, was fast-tracked through the legislature, allowing teachers and other school staff to carry guns on school premises requiring only 24 hours of training.
https://townhall.com/tipsheet/saraharnold/2022/06/03/ohio-set-to-allow-teachers-to-carry-guns-with-reduced-training-requirements-n2608170
Trump 'ICE' Director TOM HOMAN Speaks on BIDEN BORDER CHAOS
May 30, 2022
https://www.youtube.com/watch?v=-y9J1jleQwU&t=75s
Black militia leader Grandmaster Jay found guilty on federal charges in Louisville protests
Updated: 11:19 PM EDT May 29, 2022
https://www.wlky.com/article/black-militia-grandmaster-jay-guilty-louisville-protests/40130453#
Drain The Swamp
By Ted Noel, May 23, 2022
https://www.americanthinker.com/articles/2022/05/drain_the_swamp.html
Public school enrollment is plummeting
Silvio Canto, Jr., May 19, 2022
https://www.americanthinker.com/blog/2022/05/public_school_enrollment_is_plummeting.html
America is Becoming the Monster it Claimed to Fight
By Servando Gonzalez |May 18th, 2022
https://newswithviews.com/america-is-becoming-the-monster-it-claimed-to-fight/
Where Is the Prosecution For Those Corrupt Politicians That Are Guilty?
By Bradlee Dean|May 18th, 2022
https://newswithviews.com/where-is-the-prosecution-for-those-corrupt-politicians-that-are-guilty/
WHO Withdraws 12 of Biden's 13 Amendments to International Health Regulations
By Debra Heine, June 2, 2022
https://amgreatness.com/2022/06/02/who-withdraws-12-of-bidens-13-amendments-to-international-health-regulations/
Florida's official civilian guard force now accepting applicants
JUNE 01, 2022 LIZ GEORGE
https://americanmilitarynews.com/2022/06/floridas-official-civilian-guard-force-now-accepting-applicants/

During WWII, the 1916 legislation
was amended to allow state millitias to defend their own states.
These states have their own armies not under the control of the Commander In Chief
Blake Stilwell, Posted On May 26, 2019
During WWII, the 1916 legislation was amended to allow state militias to defend their own states.
https://www.wearethemighty.com/articles/these-state-defense-force-not-under-the-control-of-the-commander-in-chief/

Controlling our International border.
What does Article IV, Section 4 really mean?
Article 4, Section 4 of the U.S.  Constitution is commonly called the Guarantee Clause. It reads,
"The United States shall guarantee to every State in this Union a Republican Form of Government and shall protect each of them against Invasion.
Protection against invasion was a continuation of an established centralized foreign policy and defense under the Articles of Confederation and Perpetual Union. The Framers understood that protection of the borders was essential to both the security of the people and the viability of the economy.
The clause assures that a president cannot refuse to defend certain parts of the nation from foreign attack.
Sadly today, this understanding has been lost on our national government officials who want to "sell out" the citizens by granting "amnesty" to those who illegally enter the States of the union. What does Article IV, Section 4 really mean?
https://www.theamericanview.com/q-what-does-article-iv-section-4-really-mean/

UNITED PATRIOTS OF AMERICA (UPA)
http://www.UnitedPatriotsOfAmerica.com
E-mail – ronbass2010@comcast.net