United Patriots of America
Founded December 2001 in response to 911
UPA Report
Sunday February 22, 2015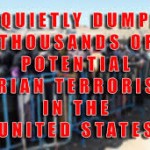 http://www.barenakedislam.com/2014/12/02/hey-america-guess-who-else-obama-is-dumping-onto-your-state-welfare-troughs-thousands-of-refugees-muslim-refugees-some-with-terrorist-ties/
We brought in 20,000 Iraqi refugees (three fourths are Muslims) and 9,000 Somali refugees just last year alone!
Intel report.
UN running peacekeeping training center in Homestead, FL
 UN personnel on site. The program is not a secret operation.
No further details.
Federal Judge Temporarily Blocks Obama's Executive Amnesty
FEBRUARY 18, 2015
Late Monday, a federal judge issued a temporary injunction on President Obama's executive amnesty program announced in November 2014. (FoxNews.com, Feb. 17, 2015) Judge Andrew Hanen of the District Court for the Southern District of Texas issued the injunction after ruling that the plaintiffs — Texas and two dozen other states — had sufficiently demonstrated that the implementation of the President's memos granting deferred action and parole status to millions of illegal aliens would injure their states.
http://immigrationreform.com/2015/02/18/federal-judge-temporarily-blocks-obamas-executive-amnesty/
Obama Seeks Emergency Stay of Judge's Executive-Amnesty Injunction
Fri, FEB 20th 2015 @ 3:17 pm EST
Earnest said the Justice Department will file the documents seeking a stay on Monday. The Administration still plans to appeal Judge Hanen's temporary injunction, which halted Obama's executive amnesty just before its launch.
https://www.numbersusa.com/news/obama-seeks-emergency-stay-judge%E2%80%99s-executive-amnesty-injunction
Unbelievable. After you scan the list you will know that we are in or going in to World War III
List of Islamic Terror Attacks
http://www.thereligionofpeace.com/index.html#Attacks
A government that can't run a website is going to keep us safe by vetting Syrian refugees?
Posted by Ann Corcoran on February 22, 2015
And, please, please tell Mark Levin and others who have now woken up to the Muslim migration to America that it is worse than he knows—we brought in 20,000 Iraqi refugees (three fourths are Muslims) and 9,000 Somali refugees just last year alone!
https://refugeeresettlementwatch.wordpress.com/2015/02/22/mark-levin-a-government-that-cant-run-a-website-is-going-to-keep-us-safe-by-vetting-syrian-refugees/
Jeb Bush reasserts open borders position, but look who he is talking to! (besides Grover Norquist! A Muslim convert.))
https://refugeeresettlementwatch.wordpress.com/2015/02/20/jeb-bush-reasserts-open-borders-position-but-look-who-he-is-talking-to-besides-grover-norquist/
'Human Rights First' praises ten open-borders REPUBLICANS who say 'bring in the refugees!'
https://refugeeresettlementwatch.wordpress.com/2014/02/11/human-rights-first-praises-ten-open-borders-republicans-who-say-bring-in-the-refugees/
Statement in Support of U.S. Commitment to Refugees
Thirty three years ago, the Refugee Act of 1980, which passed Congress with strong bi-partisan support, enshrined into domestic law America's commitment to protect the persecuted.
http://www.humanrightsfirst.org/sites/default/files/republican-statement.pdf
this is Conservative?
The political platform of (Muslim) Grover Norquist
Just three of the many non-conservative positions taken by this Imposter.
Promoting Muslim Brotherhood organizations and operatives
Amnesty for illegal aliens
Encouraging the closure of Guantanamo Bay and the relocation of its detainees to the United States
http://reaganconservativecoalition.com/
Newt Gingrich is Right: Obama is Hopeless on the Global Jihad Threat
https://www.youtube.com/watch?v=pWPu9V9lvLY
INFORMATION FOR ACTIVIST
Refugee Resettlement Watch
Diversity
https://refugeeresettlementwatch.wordpress.com/diversity/
Article found on the Refugee Settlement  Diversity page
The Age of White Masochism
http://gatesofvienna.blogspot.com/2007/10/age-of-white-masochism.html
FAIR
Today's Immigration Headlines
IRLI Files Brief in Support of Arizona's No-Bail Law for Illegal Immigrants
DHS to Allow Executive Amnesty Beneficiaries to Bring in Relatives from Central America
Law Professor Says Amnesty Is Beyond Obama's Authority
Court Ruling Demonstrates Congress Must Defund Amnesty
NumbersUSA
https://www.numbersusa.com/news
Federal court injunction against Obama amnesty gives more reason for Senate to debate DHS funding bill
The fact that the judicial branch has joined the House of Representatives and a majority of states in questioning the constitutionality of the President's executive actions on immigration should make it obvious that the Senate needs to proceed to a debate on the Department of Homeland Security funding bill and add its voice to this critical constitutional question.
https://www.numbersusa.com/blog/federal-court-injunction-against-obama-amnesty-gives-more-reason-senate-debate-dhs-funding-bill
---
Why Jihad Watch?
Why Jihad Watch? Because non-Muslims in the West, as well as in India, China, Russia, and the world over, are facing a concerted effort by Islamic jihadists, the motives and goals of whom are largely ignored by the Western media, to destroy their societies and impose Islamic law upon them — and to commit violence to that end even while their overall goal remains out of reach. That effort goes under the general rubric of jihad.
http://www.jihadwatch.org/why-jihad-watch
Free Clint Lorance
https://www.facebook.com/freeclintlorance
---
Survival….Prepping
Civilian in a Civil War Zone
My experiences as a non-combatant in a civil war zone were peculiar to the place and the time -a small agricultural village in the mountains of Lebanon in the fall of 1975- and may not be what anyone expects to experience themselves. Nonetheless, it is one example of what can happen when TEOTWAWKI hits, and how it may develop.
http://www.thesurvivalistblog.net/civilian-in-a-civil-war-zone/
How To Get a Family of Four Prepped for The Coming Collapse – In The Quickest and Easiest Way Possible…
November 12, 2014 By M.D. Creekmore
http://www.thesurvivalistblog.net/how-to-get-a-family-of-four-quickly-prepped-for-one-year-in-the-easiest-way-possible/
UPA Comment
A Republican controlled Congress will not stop and reverse the laws and policies implemented by the Obama administration that are fundamentally transforming America.
If one looks at the refugee resettlement program take note that it was implemented in 1980 under a Reagan Administration.  Yes, Obama is a clear and present danger to America. He definitely needs to be removed from office immediately. But  multicultural globalist ideologies shared by both parties are deeply rooted into our government such as the Refugee Resettlement program, poorly defended borders and non-enforcement of our immigration laws and unless these policies are reversed we will see the continual decline of our homeland from the viewpoint of the white European population that in 1960 was 90%.
If Jeb Bush, not a real conservative, but a liberal like his brother and father (neither defended our borders and Jr. supported an amnesty with no enforcement) takes the White House he will most likely continue dangerous open border policies like his father and brother.
In some regard he may be more dangerous than another Democratic President.
We get 4 to 8 years of multicultural globalists Democrats and then 4 to 8 years of multicultural globalists Republicans.
When you factor in the Islamic jihad/Sharia threat, both inside the gates and outside the gates, using politics, terrorism and immigration, both illegal and legal, assisted by our insane Refugee Resettlement program, you get a scenario that does not bode well for the future of our homeland.
We truly are "sheeple" as proven by our practically non existent resistance to the negative forces we are facing. We truly need a "lion hearted" leader or leaders to appear.
In the meantime, while waiting for our "lion" we can and should continue to escalate at the grassroots level calling our Congressman and employing economic boycotts of all opposition media.
To show opposition to our government's policies we can take legal action, civil disobedience, picketing, strikes, boycotts, demonstrations, voting against current officials, jurors refusing to convict opponents of the government (jury nullification) and refusing to cooperate with government officials.
RB
LAST WEEK

http://www.usasurvival.org/home/about.html
Take Action #1
Call the Senators
Tell them we do not need a female Eric Holder.
Capitol switchboard at (202) 224-3121.
A switchboard operator will connect you directly with the Senate office you request.
or
http://www.senate.gov/general/contact_information/senators_cfm.cfm
Government Agencies and Elected Officials
Find contact information for federal, state, local, or tribal governments and elected officials.
http://www.usa.gov/Agencies.shtml
 Action
Call your representatives in Congress and tell them to stop the Refugee Resettlement program for Muslims
Find and contact your Senator and House Representative
http://www.senate.gov/general/contact_information/senators_cfm.cfm
http://www.house.gov/representatives/
---
This will run every week.
Special Report
This report prints out to 12 pages but worthwhile reading.
The Posse Comitatus Act does not prohibit US Military on our borders.
US Military is allowed as authorized by the Constitution or Act of Congress 
https://www.unitedpatriotsofamerica.com/?p=772
---
Fighting tyranny in America 2014
 Repeating
We Are Entering An Era Of Shattered Illusions
Our mission as an opposing force to globalism is to come to terms with our own illusions and to erase them, to stop compromising and to stop waiting for the final shoe to drop and to take positive action now rather than after the endgame develops.
This means preparation and organization for the worst-case scenarios.
 This means making one's family, neighborhood and community as self-reliant and secure as possible.
The excuses have to stop.
The distractions and intellectualized silver bullet solutions have to stop. Hard work and risk are all that are left, all that matters. If we do this, and if we do this now, then victory is possible.
 In any contest of strength and will, he who knows himself best, he who sheds all illusion, will be the winner.
http://oathkeepers.org/oktester/we-are-entering-an-era-of-shattered-illusions/
Nonviolent resistance (NVR or nonviolent action) is the practice of achieving goals through symbolic protests, civil disobedience, economic or political noncooperation, or other methods, without using violence.
24/7 boycott of corporations.
They take our money and give it to the political elites to trash our Constitutional Republic.
Fight back. Don't spend your money with them.
Rules of Engagement – Get SASSY
Save America – Shop Smart Y'all
The tyranny emanating from the political, corporate and media world survives because we fund them by doing business with them.
We are actually financing our own national suicide by spending our money every day with them.
Do not spend money with your political enemies.
Avoid corporations, seek out small local businesses
Avoid mainstream media seek out alternative media.
Do business with like minded patriots.
Save America – Shop Smart Y'all (SASSY)
---
 I am only one, but I am one. I cannot do everything, but I
can do something. And because I cannot do everything, I will
not refuse to do the something that I can do. What I can do,
I should do. And what I should do, by the grace of God,
I will do." ~ Edward Everett Hale
Ron Bass
---
Follow the UPA on
Twitter
http://twitter.com/ronbassUPA
Facebook
www.facebook.com/UPA.RonBass
Ron Bass
UNITED PATRIOTS OF AMERICA
Subscribe to the UPA Report
http://www.UnitedPatriotsOfAmerica  com
E-mail – ronbass2010@comcast.net