United Patriots of America
Founded December 2001 in response to 911
UPA Report
Sunday November 13, 2016
We will now have, for the first time since Pres. Gen.
Eisenhower, a Patriot in the Whitehouse who hopefully will secure our
borders.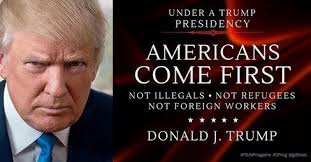 "America has just liberated itself  from political correctness".
Extraordinary  website.
New
Trump interactive Website. Make suggestions to Trump
Anti-Trump
 
This was taking place  in many schools across the country.
Des Moines school
students walk out to protest Trump victory: Report
School administrators told teachers to let them do so
http://www.washingtontimes.com/news/2016/nov/9/des-moines-students-walk-out-protest-trump-victory/
Anti-Trump
Protests: 1 Shot After 'Confrontation' in Portland;
Marchers Hit NYC, L.A.
http://www.nbcnews.com/news/us-news/portland-oregon-anti-trump-protest-1-shot-after-confrontation-n682896

 Crybaby Cowards Protest Their President Elect Trump
https://www.youtube.com/watch?v=8TNGbJVbBgU
Trump Administration
Trump  replaces Christie with Pence as head of transition team amid bumpy first steps
to the White House
http://www.latimes.com/politics/la-na-pol-trump-transition-20161111-story.html

Hebrew  Immigrant Aid Society lectures Trump; never mentions its pecuniary interest in
refugees
Posted by Ann Corcoran on November 13, 2016
"This organization is paid by the taxpayers of America to place Muslim refugees in
towns and cities in 49 states."
Headquartered in Silver Spring,MD, HIAS had an income in 2014 of
$36,161,323 according to this Charity Report. $16,959,850 is directly from the
State Department. that's our tax money.
So far I've updated our older financial information on USCRI, LIRS,
World Relief, and Church World Service.
https://refugeeresettlementwatch.wordpress.com/2016/11/13/hebrew-immigrant-aid-society-lectures-trump-never-mentions-its-pecuniary-interest-in-refugees/

Congress
Weekly
Update: The week ahead in Congress (Nov. 14-19, 2016)
Congress returns this week for the post-election session. The
Republican electoral sweep will likely keep this Lame Duck session short and
focused on must-pass bills:
 government funding (expires
December 9th) and defense authorization.
Will they Defund the Refugee Resettlement
program? The elections over what excuse do they have now.
Republicans and Democrats will vote on new leadership teams,
newly-elected members will be in Washington
for orientation, and the focus will shift from wrapping up
the 114th Congress (2015-2016) to planning for the 115th (2017-2018).
Major votes this week on extending Iran sanctions and a bill to make
it easier for Congress to invalidate "midnight rules" made in the last months
of an administration.
https://blog.popvox.com/2016/11/12/weekly-update-week-ahead-congress-nov-14-20-2016/?ct=t(Weekly_Update_Sep_26-30_2016)

Post Election
 Election  results 2016 by state and county
http://www.politico.com/story/2016/10/election-results-2016-by-state-and-county-229735#NJ

Huma breakdown: Cries as she walks to Hillary campaign headquarters
https://fellowshipoftheminds.com/2016/11/11/huma-breakdown-cries-as-she-walks-to-hillary-campaign-headquarters/
Islam/Sharia in America
Extreme Muslims = Jihadists (warriors) = terrorist  attacks
Peaceful Muslims = Sharia laws = replacing our US  constitution.
Oklahoma:
Terror-linked Muslim group won't sully Veterans Day Parade this year
Posted on November 11, 2016 by creeping
CAIR and the Muslim  American Society are both designated terrorist groups in the United Arab Emirates.
https://creepingsharia.wordpress.com/2016/11/11/oklahoma-terror-linked-muslim-group-wont-sully-veterans-day-parade-this-year/
CAIR Leader: Overthrow the U.S. Government
by Daniel Pipes, Nov 11, 2016
http://www.danielpipes.org/blog/2016/11/cair-leader-overthrow-the-us-government
Can Donald Trump ban all Muslims? Here's what to know
about his awful proposition.
https://mic.com/articles/159081/can-donald-trump-ban-all-muslims-here-s-what-to-know-about-his-awful-proposition?
Stop using Arabic words. Jihad, Takiya etc.  use the English words.
Stop the Islamization of the West not just for us but for our children and their children
Anni Cyrus' "Unknown": The
Shady Pieces of the Islamization Puzzle
NOVEMBER 5, 2016 10:53 AM BY
JAMIE GLAZOV
https://www.jihadwatch.org/2016/11/anni-cyrus-unknown-the-shady-pieces-of-the-islamization-puzzle
Canada
Canada: Parliament  Condemns Free Speech
by Judith Bergman, November
10, 2016 at 5:00 am
https://www.gatestoneinstitute.org/9296/canada-parliament-condemns-free-speech

Europe
14 min 41 sec Interesting panel of Europeans
Before  the Election
Nigel
Farage outlines why the world needs Donald Trump
https://www.youtube.com/watch?v=oWQ1gB6kykI

German Streets Descend into Lawlessness
"We are losing control of the streets."
October 31, 2016 at 5:30 am
https://www.gatestoneinstitute.org/9229/germany-lawlessness
Donald
Trump Boosts Europe's Anti-Establishment  Movement
"What America can do  we can do as well."
by Soeren Kern, November 13, 2016 at 5:00 am
https://www.gatestoneinstitute.org/9309/trump-europe

Wilders's Plan: Time for Liberation
by Geert Wilders, November 9,
2016 at 5:00 am
https://www.gatestoneinstitute.org/9291/geert-wilders-liberation
More
Superman  – Main Theme
https://www.youtube.com/watch?v=EBatxZ90wag

Welcome, Democrats, to the revolution
http://www.washingtontimes.com/news/2016/nov/8/welcome-democrats-to-the-revolution/
Rabbi Pruzansky's Blog
The views expressed here are solely my own and do not  necessarily reflect the opinions of family, friends, shul, organizations or any
other affiliations.
The Empire Strikes Back
Posted on November 10, 2016
https://rabbipruzansky.com/2016/11/10/the-empire-strikes-back/
ANONYMOUS – WAKE UP AMERICA they are COMING! –
"Donald Trump"
https://www.youtube.com/watch?v=MdZCERnEk04
FOX NEWS: HILLARY HIRED AL-QAEDA MERCENARIES FOR THE
NIGHT OF BENGHAZI
ATTACK
Posted by Martin Walsh | Nov
7, 2016 | Breaking News
https://conservativedailypost.com/fox-news-hillary-hired-al-qaeda-mercenaries-for-the-night-of-benghazi-attack/
Remain vigilant and politically active.
In 1965 when our politicians in Congress had proposed a  piece of immigration legislation that would drive a stake into the heart of America  by reversing the quotas for immigrants.
There was some opposition from inside Congress and outside Congress.
But, by and large, the American people were asleep and not paying attention. If  we were paying attention,  we may have been able  to support the opposition and defeat that bill.
We, the patriots of America  must never go back to sleep again. Ever. The defense of our borders and our
culture and our way of life has to be defended every day.
All politics is local. Who goes to DC is determined by what  we do locally.
We must  continue to be alert, vigilant and active in political affairs locally and not
go back to sleep by relying on our new President to take care of everything. He cannot succeed without our continued  support.
Restore the USA
Restore  the USA
is a platform that is set up geographically in order to unite concerned  citizens at the local level to work together to continue to Restore our Republic at
all levels – Town and City, County, State and Federal.
Remember
Trumps term is either 4 years or 8 if re-elected. He won't be around forever.
 Prepping
 The Survivor good site
http://www.thesurvivalistblog.net/
 Follow the UNITED PATRIOTS OF AMERICA (UPA)
Twitter – http://twitter.com/ronbassUPA
Facebook – www.facebook.com/UPA.RonBass
Subscribe to the UPA Report – http://eepurl.com/Mfp3X
http://www.UnitedPatriotsOfAmerica.com
E-mail – ronbass2010@comcast.net