United Patriots of America
 United Patriots of America
Founded December 2001 in response to 911
UPA Report
Sunday January 10, 2016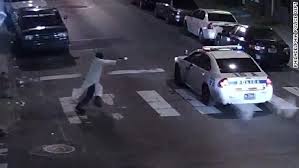 Philly cop shot in Islam's name
https://www.youtube.com/watch?v=QQZtqMGDkIQ
Very good must see.
BUNDY MILITIA FULL PRESS CONFERENCE ON
FEDERAL COMPLEX OCCUPATION
https://www.youtube.com/watch?v=z6COswKQ0IU&feature=youtu.be

Behind every blade of grass in America
there is a PATRIOT with a gun ready to defend us against Obama's JIHADISTS.
https://mobile.twitter.com/MrVeritas/status/686188156211744768

This is a callout to able minded Americans
Those guns behind every blade of grass are useless 'cause we
can't use them.
Have we been able to stop the Refugee Resettlement program
with them? Nope.
Because this is a political war.
Being well armed is necessary for personal defense and to be
prepared for combat if it evolves into that. Until that happens being well
armed does not put any points up for our side. Being well armed is certainly necessary
for fending off total all out Tyranny and was used successfully in the Bundy
BLM Standoff to prevent being over run by the BLM.
Our rules of engagement are that we will not use our weapons
until fired upon. They, the Muslims and our Dhimmi government don't have to
fire on us. They are winning without resorting to combat, they are conquering us
through politics.
We are in an asymmetrical political war that we are loosing
big time.
The Globalist Multicultural, politically correct Dhimmi
leaders of Europe are leading their people
down the path of cultural and national suicide.
We are on the same path as Europe
just a number of years behind them.
We have built a tool to resist where we live. We can't all move to DC or to our State Capitals but we
all can stay home in our towns and counties, continue to work, attend school or
enjoy our retirement and mount a political resistance that if well attended
could take back control of our government and our government officials and
restore our republic and deal effectively with the ongoing takeover of our
country by the Islamic Jihadists.  No
more Dhimmis, libtards or Muslim Brotherhood running the show. Two of the
leading Presidential candidates will be EXTREMELY important but this
fundamental restoration has to be done by "we the people" at the local level
where we live and work.
That tool is the one we have been announcing every week in
this report since it's inception a few months ago.  
 Restore the Republic – I'm In     http://RestoretheUSA.net/  We refer to this site as the RTR
The RTR is a tool we can use now to fight back. It unifies
us locally in order to achieve victories that cannot be achieved when we are
not unified. As in divide and conquer.
We outnumber our domestic enemies in polls. But we do not
outnumber them in participation. Unless "We the People" participate they win.
Sign up today and don't delay we are running out of time.
The RTR mission is to control our government officials and
control the elections.
I WILL NEVER FORGET ABOUT TEN YEARS AGO WHEN THOUSANDS OF
ILLEGALS WERE IN THE STREETS DEMANDING THEIR RIGHTS? A LITTLE GIRL SAID TO A TV
CAMERA IF THEY DON'T WANT IT WE'LL TAKE IT.
It cost nothing and you have nothing to lose, only to gain. http://RestoretheUSA.net/
For Europe to sit back and take no
action against the migratory invasion of Europe
was a terrible mistake. It appears that Europe
will not survive unless they are able to take over their dimmi governments. In America we are
on the same path. We are making the same mistake Europe
did.
The Republican controlled Congress
just re authorized funding for the Muslim Refugee Resettlement program.
American Resistance 2016!
They are changing America by
changing the people!
Bringing in Muslims through the Refugee Resettlement
program that a Republican controlled Congress just funded by passing the
Omnibus bill recently
Will you fight to save it, or allow the
greatest nation on earth to perish?
American Resistance – Stewardess asks passengers for
assistance and they respond immediately.
Muslims screaming "Allah is
great" arrested after causing disturbance Continental flight to Houston
https://www.youtube.com/watch?v=X-edn6-Liu8

American Resistance
Muslim protester's stunt gets her booted
from Trump rally; CAIR has hissy-fit
Typical of these Islamic supremacists and
agitators, they provoke a confrontation and then pretend they are just innocent
bystanders out to hear what a Presidential candidate has to say.
http://anncorcoran2016.org/2016/01/10/muslim-protesters-stunt-gets-her-booted-from-trump-rally-cair-has-hissy-fit/

American Resistance –  to Tyranny from Federal Agencies out west.
Armed Activist in Oregon: 'We Will Not Fire Unless Fired Upon'
http://www.breitbart.com/big-government/2016/01/03/watch-armed-activist-oregon-will-not-fire-unless-fired-upon/

4 Muslims arrested for attacking peaceful
pro Israel rally in Los Angeles with weapons
https://www.youtube.com/watch?v=JEurarjXlwQ

The Untold Story of Islamic Terror
Training Camps in America
https://www.youtube.com/watch?v=WwjNqurYkQE
COLOGNE, Germany 3,000 took part
Germany
Sends 1,500 Cops to Anti-Rape Migrant Protest,  But Only THIS Many, (143) to STOP Rape.
While many in the march found amusement in
the extremely large number of police officers who had been deployed to the
demonstration compared to the bare-bones 143 officers who were expected to keep
the peace on New Year's Eve, the speakers at the rally were entirely
sympathetic towards the police.
It seems that Germany is
making it clear where their priorities are.
 A peaceful protest, 3,000 took part, turned violent in the blink of an eye
today as German police turned water canon on the Patriotic Europeans Against
the Islamisation of Europe (PEGIDA) march against the rape of German girls by
refugees.
The protest had been called at
short notice in response to the growing public anger felt across Germany at the
apparently premeditated and systematic sex assault of hundreds of girls as they
parties on New Year's Eve on Cologne and other German cities.
http://clashdaily.com/2016/01/germany-sends-1500-cops-to-anti-rape-migrant-protest-but-only-this-many-to-stop-rape/?

Anti-immigrant protest turns violent in Cologne
http://www.latimes.com/world/la-fg-cologne-protest-20160109-story.html

Tommy Robinson is launching the UK
branch of PEGIDA today
PEGIDA brands Islam a 'fascist
ideology' and vows to fight 'migrant influx' at UK launch
http://www.express.co.uk/news/politics/631357/PEGIDA-launches-Britain-vow-fight-Islamification-of-the-West-Tommy-Robinson

American Resistance
– Border Security
A look at some
activities that were taking place 16 months ago.
The following
posting was made in the UPA Report on 8-16-2014
Update
Patriot Information
Hotline
https://www.unitedpatriotsofamerica.com/border-control/patriots-information-hotline.html

St. Cloud is being colonized with Somalis with the
help of Lutheran Social Service of Minnesota!
St.
Cloud, MN
mosque vandalism called hate crime; Muslim arrested this week
Posted by Ann
Corcoran on May 8, 2015
Next time you hear
about some mosque being attacked by vandals consider the very real possibility
that it is an inside job!
Our extensive archive on St. Cloud going back to
2008 is here.  St. Cloud is being colonized with Somalis
with the help of Lutheran Social Service of Minnesota!
https://refugeeresettlementwatch.wordpress.com/2015/05/08/st-cloud-mn-mosque-vandalism-called-hate-crime-muslim-arrested-this-week/

American Resistance in Oregon
Good video – very long,
extremely interesting
Cowboy Uprising
You have to stand for something or
you'll fall for anything!
https://www.youtube.com/watch?v=8x-dhQb9SP4

Published on
Jan 3, 2016
Full Story on What's Going on In Oregon – Militia Take
Over Malheur National Wildlife Refuge
In Protest to Hammond Family Persecution…Is This The Start of the American
Revolution? Armed US
PATRIOTS In Standoff With Feds NOW. Oregon/HAMMOND RANCH Update.
https://www.youtube.com/watch?v=wRoVjQ-l5vY

Oregon standoff goes into 6th day,
locals & militia members make limited peace
https://www.youtube.com/watch?v=C7QgJjCPFiA

Morale at Oregon Standoff Collapses After Militia
Member Goes AWOL, Drinks Away Donation MoneyDylan Hock | January 7, 2016
http://usuncut.com/news/oregon-standoff-member-caught-drinking-donation-money/
Urgent Warning on Oregon Standoff: Military Special OP Assets
Have Been Assigned for Standoff. Get All Children Out of There Immediately
By doing this, they have
given Obama the best New Years present he could hope for – an example of
militia movement/patriot aggression, which gives up the high ground while also
having the least credibility and support from the locals possible, after lying
to them, and also the least support from the patriot community, who were also
blind-sided by Ammon and Ryan Payne.
https://www.oathkeepers.org/urgent-warning-on-or-standoff-military-special-op-assets-have-been-assigned-for-standoff-get-all-children-out-of-there-immediately/

 facebook-
statement by Allen West retired military and former Congressman.
President Obama, before you make your
gun announcement today, you better read THIS
http://www.allenbwest.com/2016/01/president-obama-before-you-make-your-gun-announcement-today-you-better-read-this/

Hammond and Bundy
"Ranches" —
Volcanoes, Gold, URANIUM plus BLM /
Government
https://www.youtube.com/watch?v=rpkm6iSd–c

Oregon Militia Standoff /
Interview with former FBI agent.
http://video.foxnews.com/v/4685069860001/ex-fbi-rescue-team-commander-urges-patience-in-oregon-siege/?#sp=show-clips

Anti-government protesters march through Burns
Dwight Hammond, Steve Hammond heading to prison on
Monday
http://koin.com/2016/01/02/anti-govt-protesters-expected-in-burns-saturday/

Oregon ranchers
reject Cliven Bundy family occupation
http://www.cbsnews.com/news/oregon-ranchers-reject-cliven-bundy-family-occupation/
  
Oregon Standoff
Update
January 4, 2016
https://www.youtube.com/watch?v=5OBlU7ValF4
Oregon standoff: Idaho group arrives to 'secure perimeter,
prevent Waco-style situation'
http://www.oregonlive.com/pacific-northwest-news/index.ssf/2016/01/oregon_standoff_idaho_militia.html#incart_big-photo
Full Story on What's Going on In Oregon – Militia Take
Over Malheur National Wildlife Refuge In Protest to Hammond Family Persecution…
Posted on January 3, 2016  
Sometime in June 2014, Rhonda Karges, Field Manager for the BLM, and her
husband Chad Karges, Refuge Manager for the Malheur Wildlife Refuge (which
surrounds the Hammond ranch), along with attorney Frank Papagni exemplifying
further vindictive behavior by filing an appeal with the 9th District Federal
Court seeking Dwight's and Steven's return to federal prison for the entire 5
years.*
http://theconservativetreehouse.com/2016/01/03/full-story-on-whats-going-on-in-oregon-militia-take-over-malheur-national-wildlife-refuge-in-protest-to-hammond-family-persecution/?blogsub=confirming#subscribe-blog
Facebook
Update on Oregon
from Jon Ritzheimer.
100 ranchers were kicked off the land.
Reminds me of the farmers being kicked off the land in
Zimbabwe once called Rhodesia
https://www.facebook.com/melvin.lee.733/videos/1081681021865080/
RON PAUL PREDICTED BLM OVERREACH 17 YEARS AGO
'There was never meant to be a federal police force'
http://www.wnd.com/2014/04/1997-ron-paul-warned-of-bureaucrats-with-guns/
More
Donald Trump predicts 'you won't be able to get guns'
http://www.cnn.com/2016/01/04/politics/donald-trump-guns-obama-executive-action/index.html
Sorry, but we need a Revolution
https://www.facebook.com/KellyFoxton/posts/1059409787413500
Texans Celebrate New Open Carry Law at State Capitol
Building
Posted on January 4, 2016 by Philip Hodges — 28
Comments
http://lastresistance.com/15544/texans-celebrate-new-open-carry-law-at-state-capitol-building/
A tale that could only happen in Jersey:
The token bennie and the 3 bears | Mulshine
http://www.nj.com/opinion/index.ssf/2015/10/a_tale_that_could_only_happen_in_jersey_the_token.html#incart_article_small

Restore the Republic – I'm In
http://restoretheusa.net/
Sign up
now. Then join your state and county groups.
It's free.
No advertisements.
Not a
Militia.
We are
being invaded and we are involved in asymmetric warfare. We need to escalate in
order to defend our country. If you're waiting for a revolution or a war it's here
now. Stay home and we lose. Get out of the house and we have a chance. It's
time to prove that we are the Land of the free and the home of the brave. Game
on. Get out of the house now and stand up for your homeland.
Join
the RTR and find out who your allies are in your local area.
Refugees
Calling them
refugees means they are fleeing from something but the good heart is not
enough; And we must have the courage to say they are TOO MUCH.
-Dalai Lama
Prepping Tips
That Nobody Talks About
http://survivallife.com/2013/11/30/prepping-tips-nobody-talks-about/
 Follow the UNITED PATRIOTS OF AMERICA (UPA)
Twitter – http://twitter.com/ronbassUPA
Facebook – www.facebook.com/UPA.RonBass
Subscribe to the UPA
Report – http://eepurl.com/Mfp3X
http://www.UnitedPatriotsOfAmerica  com 
E-mail – ronbass2010@comcast.net