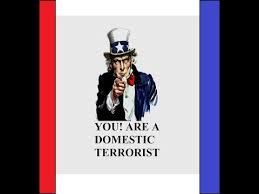 Patriots or Domestic  Terrorists
posted here on 10.14.16
By  Star-Ledger
Editorial Board
on October 10, 2016 at 6:30 AM, updated October 10, 2016
Forget Wall Street banksters. Scott Garrett has new friends, on a terror list
| Editorial
But now we have Garrett on video, calling a local Oath
Keeper official an "unsung hero," and helping to raise the profile of
his terrorist group
Gov. Chris Christie's administration put the Oath Keepers on
a list of domestic terror threats because of their increased fundraising and
violent rhetoric. The Southern Poverty Law Center labels them dangerous
extremists. 
http://www.nj.com/opinion/index.ssf/2016/10/forget_wall_streets_titans_scott_garrett_has_new_f.html#incart_river_index
posted here on 10.13.16
The Ridgewood
Blog
In a Media Coordinated Push Bergen Democrats Attack Garret over Oath Keepers, but Fail
to Distance themselves from Financial ties to Middle East Terror Supporting Nations
http://theridgewoodblog.net/in-a-media-coordinated-push-bergen-democrats-attack-garret-over-oath-keepers-but-fail-to-distance-themselves-from-financial-ties-to-middle-east-terror-supporting-nations/#comment-1983196

The Blaze
GOP Rep. Scott Garrett criticized for fraternizing
with 'domestic terror' group — here's what really happened.
Oct. 11, 2016 by Kaitlyn Schallhorn
http://www.theblaze.com/stories/2016/10/11/gop-rep-scott-garrett-criticized-for-fraternizing-with-domestic-terror-group-heres-what-really-happened/
The Observer.kom
Weinberg Calls on AG to Investigate Garrett's Ties to
Domestic Terror Organization
By Max Pizarro • 10/11/16
"In the wake of homegrown terror attacks – like the ones in Elizabeth, New York, and Seaside Park
– the citizens of New Jersey
deserve to know the full extent of Congressman Garrett's connections to this
terrorist organization," said Weinberg. "I am asking the attorney general to
investigate this matter and whether he has violated any state laws.
http://observer.com/2016/10/weinberg-calls-on-ag-to-investigate-garretts-ties-to-domestic-terror-organization/
---
The original article written by reporter Joshua Gree from Bloomberg Businessweek who
was at the meeting for Garrett Saturday morning and interviewed Durfee.
Republican Chairman of Wall Street Committee Held Fundraiser
With Official From 'Domestic Terrorist' Group
Joshua Green
Bloomberg Businessweek October 6, 2016
New Jersey Representative Scott Garrett praised Edward
Durfee, the regional coordinator for New Jersey Oath Keepers, at an October
gathering.
http://www.bloomberg.com/politics/articles/2016-10-06/scott-garrett-fundraiser-terror-group
Democratic Underground
Republican Chairman of Wall Street Committee Held Fundraiser
With Official From 'Domestic Terrorist'
Source: Bloomberg
http://www.democraticunderground.com/10141589338
Wall Street's
Straight Man in Washington
Jan 14, 2016 5:45 AM EST
Representative Scott Garrett's antigay views are making Wall
Street reconsider how it does business.
http://www.bloomberg.com/politics/features/2016-01-14/wall-street-s-straight-man-in-washington
http://www.bloomberg.com/politics/features/2016-01-14/wall-street-s-straight-man-in-washington
http://www.politico.com/tipsheets/playbook/2016/10/trump-to-page-six-i-wont-talk-about-wjcs-past-exclusive-hassan-cuts-ad-from-ayottes-role-model-comments-the-playbook-interview-jason-kander-bday-tracy-sefl-216697
http://www.northjersey.com/news/garrett-campaign-says-he-didn-t-know-event-was-organized-by-extremist-group-official-1.1672862
https://talkingpointsmemo.com/livewire/scott-garrett-praises-oath-keeper-official-fundraiser
http://www.thedailybeast.com/cheats/2016/10/06/gop-rep-held-fundraiser-with-terror-group-official.html
Bergen Record
http://www.northjersey.com/news/garrett-campaign-says-he-didn-t-know-event-was-organized-by-extremist-group-official-1.1672862
Rep. Scott Garrett's campaign said
Thursday he did not know people promoting a meeting with him at a River Edge
diner last weekend were part of a group called Oath Keepers that state homeland
security officials say is connected nationally to domestic
terrorism.
A Facebook page posted by Edward Durfee touting a breakfast with
Garrett on Saturday said it was sponsored by Bergen County New Jersey for Liberty and American Bedrock Foundation, and directed payments for
the meal to the foundation.
Bloomberg Businessweek reported Durfee is a co-founder of the
foundation and that he told the magazine it is "basically the fundraising arm
for the Oath Keepers and other pro-Constitution groups."
In a report that names "militia extremists" as a moderate threat to
the state, New Jersey's
Office of Homeland Security and Preparedness says that some extremists organize
under Oath Keepers and "view the federal government as an existential threat to
the rights and freedoms of Americans."
Garrett praised Durfee at the breakfast as an "unsung hero,"
Bloomberg reported.
But Sarah Neibart, Garrett's campaign
manager, said the breakfast was arranged with the Campaign for Liberty and there was no contact with Durfee
in advance.
"Any attendees with affiliations to outside organizations have
nothing to do with Congressman Garrett," Neibart said
in a statement. "Congressman Garrett had no knowledge of any affiliation with
Oath Keepers, and we were not informed of any partnership."
Stephanie Raphael, a spokeswoman for the state homeland security
office, said that in Oath Keepers nationally have justified violence against
the government, but the state is not saying that's true for everyone in the
group.
"That's important to note," Raphael said. "We're not saying all
Oath Keepers are domestic terrorists. We categorize militia extremist groups as posing a moderate threat.
Oath Keepers and 3
Percenters have been actively recruiting in New Jersey and both have members nationally
that justify violence. We're not talking about New
Jersey members specifically."
Raphael said she had no comment on whether it was appropriate
for a member of Congress to meet with the group.
Calls and emails to Durfee, whose Facebook page features a
background photo of a colonial militia and the caption "You Will Not Take Our
Guns!" were not returned. Members of the New Jersey Oath Keepers told Bloomberg
they objected to the terrorism characterization and may sue the state.
Rep. Bill Pascrell, a Democrat from Paterson and former member of the House
Homeland Security Committee, condemned Garrett and called him an "enabler" of
an extremist group.
"We live in a democracy and we believe in change through the
law, we don't believe in change through weapons. Participating in that meeting
is enabling that organization to do no good. That's what Mr. Garrett has chosen
to do and I'm sorry to say that," Pascrell said.
Garrett, a seven-term incumbent from Wantage
in Sussex County,
is in a tight re-election race against Democrat Josh Gottheimer
of Wyckoff.
A co-founder of the House Freedom Caucus and the House
Constitution Caucus, Garrett has worked during his career to promote stricter
adherence to the limited role for the federal government listed in the
Constitution's "enumerated powers." Garrett has said, for example, the
Constitution does not give the federal government the power to regulate local
education, and has said its role in transportation should be limited to routes
affecting interstate commerce.
"He sticks to the Constitution," Durfee told Bloomberg. "We
organized the breakfast meet-and-greet to bring some credence to our
organization, as well as to inform the people."
Garrett's campaign called Bloomberg's story "sensationalist
reporting."
Staff Writer Kim Lueddeke contributed.
Email: jackson@northjersey.com