United Patriots of America
Founded December 2001 in response to 911

UPA Report
Sunday May 26, 2019
 27 May – Memorial Day
Memorial Day, the last Monday of May, is the day we honor Americans who gave
their lives in military service.
The Crisis at the Border Continues with No End in Sight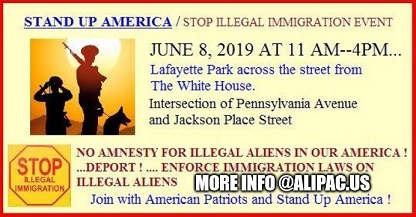 If you cannot attend, please makea donation.
Please donate $25, $50, $100 or more now to

help ALIPAC afford to attend and sponsor the June 8 protest
against Catch and Release at the White House June 8 here…
https://www.alipac.us/donations/

 For additional info.
https://www.alipac.us/f8/help-us-carry-your-voices-washington-june-8-a-372657/

Share and discuss this call to action by email and on (FACEBOOK HERE) .. (ALIPAC HERE) ..
(TWITTER HERE) .. (GAB HERE)
Read the comments at end of article
President Trump's Department of Homeland
Security (DHS) has released about 7,900 border crossers and illegal aliens into the United States in the past eight days, federal data confirms.
https://www.breitbart.com/politics/2019/05/22/dhs-releases-7-9k-illegal-aliens-into-u-s-in-8-days-185k-released-in-5-months/

DHS Releases 7.9K Illegal Aliens into U.S. in 8 Days; 185K Released in 5 Months
https://www.breitbart.com/politics/2019/05/22/dhs-releases-7-9k-illegal-aliens-into-u-s-in-8-days-185k-released-in-5-months/

Migrants dropped at US bus stations as Border Patrol shelters overflow
May 25, 2019
https://news.yahoo.com/migrants-dropped-us-bus-stations-border-patrol-shelters-063811972.html

What you need to know about: Tent cities at the border
Overcrowding has forced the Border Patrol to improvise, converting strip malls and department stores into shelters and building military-style tent cities in parking lots.
https://theweek.com/articles/843166/what-need-know-about-tent-cities-border

Utah judge suspended for criticizing Trump on social media and in court
https://www.nbcnews.com/politics/donald-trump/utah-judge-suspended-criticizing-trump-social-media-court-n1010331

Trump signs memorandum requiring the sponsors of immigrants to pay for their social services
Anyone sponsoring an immigrant who collects welfare benefits before becoming a legal permanent resident will have to pay the bill
President Trump signed a new presidential memorandum on ThursdayIt requires any individual sponsoring a non-citizen to take financial
responsibility for any income-based welfare benefits that the immigrant receives
https://www.dailymail.co.uk/news/article-7065355/Trump-signs-memorandum-requiring-sponsors-immigrants-pay-way.html

TRUMP BROKE CNN': Layoffs Continue To Rock Far-Left Network,
Former Employees Trash Company As Ratings Plummet
https://gellerreport.com/2019/05/cnn-crashes.html/

Sheriff Mike Strada stands up to NJ Gov. Murphy's Sanctuary State scheme
http://www.unitedpatriotsofamerica.com/?p=3153

Customs Enforcement (ICE) arrested 13 immigration violators in New Jersey during a four-day surge
effort, the agency said.
The operation targeted aliens who have been issued a final order of removal in the past five years, have failed to depart the United States, and have received criminal convictions or have pending criminal charges.
https://history.state.gov/milestones/1945-1952/immigration-act

Sanctuary City Defends Releasing Illegal Alien MS-13 Accused Murderers: 'A Detainer Is Not a Warrant'
https://www.breitbart.com/politics/2019/05/22/sanctuary-city-defends-releasing-illegal-alien-ms-13-accused-murderers-a-detainer-is-not-a-warrant/

LEFT VS RIGHT
 CROSSFIT, INC. SUSPENDS USE OF FACEBOOK AND ASSOCIATED PROPERTIES
ByCrossFitMay 23, 2019
https://www.crossfit.com/battles/crossfit-suspends-facebook-instagram

'Save Chick-Fil-A' Bill. Will The Governor Sign It? Here's A Clue
Posted at 5:56 pm on May 21, 2019 by Alex Parker
https://www.redstate.com/alexparker/2019/05/21/texas-lawmakers-pass-%E2%80%98save-chick-fil-a%E2%80%99-bill.-will-governor-sign-heres-clue

Journos from Prominent News Publications Found to Have Working Relationships with Antifa
Brandon Morse, Red State, May 17, 2019
https://www.redstate.com/brandon_morse/2019/05/17/journos-prominent-news-publications-found-working-relationships-antifa/

Has the Day of the Nationalists Come?
May 20, 2019 by Patrick J. Buchanan
"If one could identify a cry common to populists, it might be: "We want our country back!"
https://buchanan.org/blog/has-the-day-of-the-nationalists-come-137052

ISLAM IS IN AMERICA 
 Pipe-Wielding Somali 'Youths' Attacked People Waiting for Light Rail Train in Minneapolis
Thomas Lifson, American Thinker, May 21, 2019
My hometown of Minneapolis has been totally transformed by the arrival of tens of thousands of refugees from Somalis, one of whom now represents the city and a few suburbs in Congress. Nobody there was asked if such a makeover was desired by the residents; State Department officials decided that the generous welfare benefits available in Minnesota were reason enough to send people whose native
land is tropical to the coldest major city in the United States.
https://www.americanthinker.com/blog/2019/05/information_slowly_emerging_about_pipewielding_mob_of_somali_youths_who_attacked_people_waiting_for_light_rail_train_in_minneapolis_last_friday.html
Terror-tied Islamic Group Bullies Maryland Elementary School into Cancelling School Production of Aladdin
Here again we see the continuing islamization of the public school and the public square. Textbooks and school assignments proselytize for Islam and Islamic supremacism. And now Disney is "islamophobic," and one of the most notorious terror-tied Islamic groups is dictating what our children can and cannot do, see and cannot see, hear and cannot hear.
https://gellerreport.com/2018/10/islamic-terrorcair-bullies-school.html/

Terror-Tied CAIR Condemns Disney's Aladdin "Racism" (Islam is not a race)
Aladdin is a centuries old story that has delighted children for generations. Attacking Disney is synonymous with attacking American culture, Western culture. No one should pay any mind to these terrorist groups like CAIR or the  jihad-aligned media advancing the goals. One commenter remarked, "CAIR better be careful, they are now messing with an organization more ruthless than their own."
https://gellerreport.com/2019/05/terrorist-cairs-condemns-disney.html/

ELECTORAL COLLEGE AND VOTING
 Judicial Watch estimates at least 900,000 aliens illegally voted in the midterm elections.
 Pueblo Sin Fronteras.   (People Without Borders)
PSF advertises in  Honduras and Guatemala for people who would be interested in coming to the United States to live.  That would be a hard sell, wouldn't it?  They then help organize and finance the "caravans" that march 1000 miles across Mexico and end up at our southern border.  And you thought it was all a spontaneous.
https://www.americanthinker.com/articles/2019/05/the_democratsalien_voting_strategy.html

The Electoral College Is Under Assault. Here's Why It's Worth Saving.
It has never been clearer that the Electoral College is under systemic assault.
https://www.dailywire.com/news/47565/hammer-electoral-college-under-assault-heres-why-josh-hammer

Nevada Passes Bill To Give Electoral Votes To National Popular Vote Winner
Thus far, 14 states and one district have officially passed the measure, their collective electoral vote total currently at 189. The compact requires a minimum of 270 total pledged electoral votes to go into effect. Should Sisolak sign the bill, the total would edge up to 195 votes.
https://www.dailywire.com/news/47520/nevada-passes-bill-give-electoral-votes-national-james-barrett

AMERICAN RENAISSANCE
 Several protesters arrested outside conference at middle Tennessee park
by AJ AbellSaturday, May 18th 2019
Daryle LaMonte Jenkins came from New Jersey just for this protest.
The four protesters arrested outside conference have been identified by the Dickson County Sheriff's Office as Corey
Lemley, Andrew Kelley, Robert Fidler & Sarah Abdel-Wahab-Obrien. They are charged w/ disorderly conduct. Obrien was also charged with aggravated assault.
https://fox17.com/news/local/several-protesters-outside-conference-at-middle-tennessee-park

Restore the USA
http://restoretheusa.net/
 PREPPING
 Forging the hero   Very interesting. Worth reading
The secret to the survival of the cultural values of the Constitution is for people to start LIVING those values again.
https://mountainguerrilla.wordpress.com/2016/03/11/forging-the-hero-what-is-your-end-game-goal/
Links To Prepping Plus
http://www.unitedpatriotsofamerica.com/index.php?s=prepping
Follow the UNITED PATRIOTS OF AMERICA (UPA)
Twitter – http://twitter.com/ronbassUPA  
Facebook – www.facebook.com/UPA.RonBass
 http://www.UnitedPatriotsOfAmerica.com  
E-mail – ronbass2010@comcast.net

May 24 2019
Contact: Sheriff Michael F. Strada
Sheriff Mike Strada stands up to Gov. Murphy's Sanctuary State scheme
Asks U.S. Attorney General for guidance
In a letter to U.S. Attorney General William Barr, Sussex County Sheriff Mike Strada laid out his opposition to Governor Phil Murphy's Sanctuary State scheme and to his administration's attempt to deprive the voters of Sussex County with an opportunity to have a voice in the matter. Sheriff Strada wrote:
In response to a growing outcry of concern from their constituents, on April 10, 2019, the Sussex County Board of Chosen Freeholders – the legislative body that represents the people of Sussex County, New Jersey – passed a resolution to place a non-binding public question on the ballot in the county that asks voters to instruct their Sheriff on the Sanctuary State directive issued by Governor Murphy's attorney general. The ballot question gives voters a choice to instruct their county Sheriff to (1) obey the state directive or (2) follow the laws passed by the Congress of the United States of America, signed by successive Presidents of both parties, and upheld by the United States Supreme Court.
On May 17, 2019, the Murphy administration – through Attorney General Gurbir Grewal – sent notice (attached) to Sussex County Clerk Jeff Parrott that the public question "must not be included" on the ballot in November. It is my understanding that this violates the New Jersey Constitution, which specifically placed elected CONSTITUTIONAL officers (such as the Sheriff and County Clerk) outside the control of the executive. But more importantly, it is hypocritical to block American citizens from indicating their preference to have their elected officials follow the laws of the United States of America, in favor of compelling them to follow the directives of an appointed state official who is in violation of those laws.
Sheriff Strada was clear in his determination to fight the Murphy administration on the Sanctuary State issue:
On behalf of myself and several members of the Freeholder Board, I am requesting your guidance in this matter. As the chief law enforcement officer of the United States of America, I believe that law enforcement in New Jersey should be following the federal government in matters of a federal nature. Protecting the borders of the United States, as well as immigration and citizenship (and the criminal laws governing same), are federal matters and not the purview of the states. After all, we are Americans first and foremost, and not the citizens of 50 individual nation-states.
For my part, I will continue to fight the Murphy administration on its Sanctuary State scheme. I believe it will lead to an expansion of modern slavery – human trafficking and the exploitation of women and children – and of the criminal importation of illegal firearms, narcotics, and opioids. The Sanctuary State idea will lead to legal anarchy as well as aiding organized crime and terrorism. It is nothing more than a dangerous and illogical fashion statement.
Sheriff Strada was joined by Assemblyman Parker Space (R-24), who lambasted Governor Murphy for his "bullying tactics". Assemblyman Space said: "On the one hand, Murphy is extending the rights of illegals every week and going further by backing up those so-called rights with taxpayer money and new spending. On the other hand, he is taking away the right to vote from American citizens who live in Sussex County. It is ridiculous and I oppose it."
Freeholder Dawn Fantasia had this to say: "The immigration crisis has led to unprecedented abuse of women and children. The Sheriff is right and the people should have the opportunity to vote to ignore a reckless state directive."
Earlier, Freeholder Josh Hertzberg, who began his career as a federal border officer, said the voter initiative was giving the voters the chance of "asking our politicians to follow the law."
Sheriff Mike Strada is in his third term as Sheriff of Sussex County. He is a career law enforcement officer who served as a U.S. Army platoon leader in Iraq (Desert Storm). He is married with three children
END