United Patriots of America
 United Patriots of America
 United Patriots of America
 Maybe this is he best Political cartoon ever.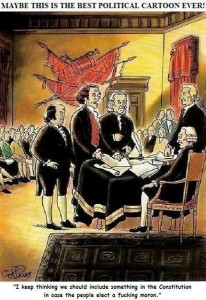 I keep thinking we should include something in the Constitution in case the people elect a fucking moron.
JULY 4th CALL TO ACTION
It's interesting that, even in the wake of the Titanic disaster, U.S. immigration officials were still trying to enforce the law.
Titanic Centennial – The Immigration Dimension
Of course they did take into account the special situation of the Titanic survivors and were able to help them. But the laws didn't go out the window.
Exactly one hundred years ago, April 15th, 1912, RMS Titanic sank in the North Atlantic. The tragic and fascinating story of Titanic has captivated the public for a century