United Patriots of America
       United Patriots  of America
Founded December 2001 in response to 911

UPA Report
Sunday August 5, 2018
  United Patriots of America
Founded December 2001 in response to 911
        United Patriots of America
Founded December 2001 in response to 911
       United Patriots of America
    United Patriots of America
 United Patriots of America
As Protests Multiply, Is Iran On Verge Of Revolution?
6/29/2018
The 39-year-old dictatorship of the Mullahs in Tehran may be on the verge of dissolving, as Trump imposes new, stiff sanctions on Iran's economy and Iran's currency, the rial, plunges sharply, prices soar and the economy collapses. Average Iranians are losing faith in the government and taking to the streets.
https://www.investors.com/politics/editorials/iran-protests-revolution/
Iran: "Death to Khamenei" chants ring out on fourth day of protests against
the Islamic regime
Iranians entered the fourth day of protests on Wednesday after the rial hit a record low of 90,000 rials to one U.S. dollar on Sunday.
https://www.jihadwatch.org/2018/06/iran-death-to-khamenei-chants-ring-out-on-fourth-day-of-protests-against-the-islamic-regime
Paris gathering shows growing clout of anti-Iran dissident group
Giuliani, others urge fresh pressure on shaken Tehran regime
The rally here Saturday was led by the largest opposition organization in Iran of exiles, the National Council for the Resistance of Iran, a well-connected group which has found new prominence and influence with the strongly anti-Iran Trump administration now in power in Washington.
The pressure in Iran has been mounting in the weeks since the U.S. pulled out of the 2015 nuclear deal: President Trump announced a tightening of oil and other economic sanctions, Secretary of State Mike Pompeo unveiled a new plan to increase the pressure on Tehran, and regime-change advocates such as new national security adviser John Bolton were brought into the administration's inner circle.
https://www.washingtontimes.com/news/2018/jul/1/national-council-resistance-iran-paris-gathering-s/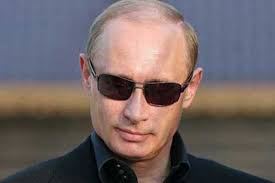 NO wonder Putin was selected by Forbes Magazine as the most powerful person in the world.
This is one time our elected leaders should pay attention to the advice of Vladimir Putin.
I would suggest not only our leaders, but every American Citizen should pay attention to this advice.
How scary is that?
It is a sad day when a Communist leader makes more sense than so many of our elected officials in the U.S. Senate and U.S. House of Representatives, but here it is
Vladimir Putin's speech – the SHORTEST SPEECH he has EVER made.
As the Russian president, Putin addressed Duma (the Russian Parliament) and gave a speech about tensions with minorities in Russia:
"In Russia, live like Russians.  Any minority, from anywhere, if it wants to live in Russia, to work and eat in Russia, it should speak Russian, and should respect all Russian laws. If they prefer Sharia Law, and wish to live the life of Muslims, then we now clearly advise them to go and live in those places where that's the state law.
Russia does not need Muslim minorities Minorities need Russia, and we will not grant them special privileges, or try to change our laws to fit their desires, no matter how loud they yell 'discrimination'!
We will not tolerate disrespect of our Russian culture.
We had better learn from the suicides of so-called democracies— America, England, France, Germany, and Holland — if we are to survive as a nation.
The Muslims are taking over those countries, BUT they will NOT take over Russia!  
Our Russian customs and traditions are not compatible with the lack of culture or the primitive ways of Sharia Law and Muslims.
When this honorable legislative body thinks of creating new laws, it should have in mind the  Russian national interest FIRST,  observing that the Muslim minorities ARE NOT  Russian."
The politicians in the Duma gave Putin a five minute standing ovation.
  United Patriots of America