United Patriots
of America
 United Patriots of America
Posted on September 12th, 2016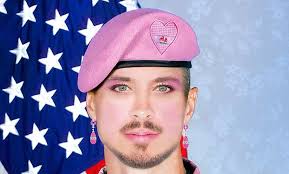 In a 2015 memo by the Secretary of the Army to worldwide Army Commands, the Secretary dictated that 'Commanders and soldiers will balance lactation support and readiness.'
In response, Colonel (Ret.) Fred Dibella, USMA Class of '69 and former TAC of Company F2 at West Point wrote:
"Ok, I've had all I can stomach. I'm done.
Scroll down and read this crap right now, if you think I'm kidding, then come back to my remarks, if you haven't puked your guts out. (USMA '69 forum, feel free to permanently ban me from your rolls, but I've had enough.)
Obama and his lackeys have now systematically laid the groundwork to accomplish what no battlefield enemy has ever done; that is, to emasculate the United States Military. I honestly don't know how he could have done it more effectively. He's dangerously downsized the force; he's rooted out warriors like Stan McChrystal and Carter Ham from the General and Flag Officer ranks and installed puppets like George Casey and Martin Dempsey; he not only obliterated 'Don't ask, Don't tell'; he searched long and hard to find an openly gay (and utterly unqualified) man to be Secretary of the Army; he opened not just combat arms to women, but the absolute tips of the spear in Infantry, Armor and Artillery, and the predictable result is directives like "balance lactation support and readiness"?
Seriously? SERIOUSLY??? Balance lactation support and readiness!?
Sorry, I'm old school, but I THOUGHT READINESS WAS NEVER, EVER COMPROMISED… let alone for "lactation support".
Have we gone completely mad?!? Do you think for a moment that the greatest fighting force the planet has ever known is immune to emasculation? That there's nothing that Obama can do to significantly degrade its lethality?  That somehow we will magically prevail, despite all this crap?
Here's the blunt truth, and if you think this flies in the face of political correctness and/or liberal theology… congratulations.
The most important reason the U.S. Military has been so dominant, so lethal, and so unbeatable over that last 200 years is that we subscribe to a Warrior Ethos. We're not quite Sparta, but we ain't been far behind. That is, until now. Up to now, we have recognized the blatantly obvious: That battles and wars are won by Alpha Males. And why is that? Uh… because men and women may well be equal in the eyes of God, but they damned sure ain't identical in the laws of physics and psychology. Men are, by and large, bigger, stronger, faster, more aggressive, more violent, more ferocious, more intense, more powerful, more brutal, more belligerent, more destructive, AND THEREFORE MORE LETHAL than women.
You don't buy that? Tell you what – pick 50 men at random from anywhere and 50 women. Put 'em in a big ring and tell 'em to fight to the death. Have a problem immediately predicting the outcome? If you do, I can't help you.  You're an idiot or a flaming liberal who believes that "Laura Croft, Tomb Raider" is real.
Why do you think Martin Dempsey, Obama's personal lackey in uniform, issued his famous proclamation? You know the one: "If women can't pass the standards at Ranger school, SEAL school, and other similar training programs, then the standards will have to be justified to me".
God help me, but am I the only one who sees through that bull? I guess the Rangers at Point du Hoc weren't good enough, huh Martin? Neither were the SEALS at Benghazi? I guess Delta's incredible successes are not sufficient.   'We must reassess the standards'. Total crock of —-. Scrape away the BS, and here's the residue: We're gonna lower the bar 'till the women can get over it, period. Think that'll have any effect on lethality? BTW, how'd you like to be the Ranger School Commandant who goes to Massa Dempsey's office to 'splain why women aint' makin' it? Think he might avoid that by "adjusting" things a bit?
But it's more than physicality. It's about the laws of nature. That is, when young men and women are put together they respond to hormones rather than 'good order and discipline'. 1976:  Women are introduced to West Point.   Regulations strictly prohibited fraternization among cadets. Hahahahahahaha. Written by some idiot, no doubt.  They were bangin' each other like rabbits. Trust me, I had a ringside seat. But that wouldn't happen in a Ranger squad, or a SEAL team, right? If you said, "Right", then you're an idiot. The squad/team leader is messin' around with a female and there's no degradation to good order and discipline, right? The previous "Brotherhood" that formerly bonded warriors together won't be affected, right?
So we now have a female Commandant of Cadets at West Point. See how freaking enlightened we are? We can appoint females to the leadership roles at the nations' premier School for Warriors. That is, the nations' FORMER premier School for Warriors. West Point is now the tip of the Political Correctness spear. We have gay marriages at the cadet chapel, we have kindness and compassion seminars, we even have Sensitivity Officers on cadet staffs – right next to the Operations and Logistics Officers – to ensure that Alpha Males do not behave like Alpha Males. We dumb 'em down now. We used to understand that good warriors were a little rough around the edges. We tolerated that, because we knew 'em for what they were… Patton comes immediately to mind.   Instead, now we intentionally extract the fangs from the sheepdogs, just about the time when the wolves from Islam are stalking the flock…
Obama gave us Obamacare, which is now sinking under its own sick formula. Good thing, because the gutless Republicans couldn't bring themselves to defund it. Obama has given us Sotomayor and Kagan, two flaming Liberals who will sit on that bench for a generation of Looney Tunes. Obama has demonstrated his racism, his socialism, his disdain for law enforcement and even his proclivity for Islam (the "peaceful" religion… what a laugh).   He's been the single most divisive and destructive POTUS in my lifetime. America, thanks to him, is at war with itself. GOP vs 'Crats, Blacks vs Whites, Haves vs Have-nots, Women vs Men, Armed vs Unarmed, you name the category… we have two sides at war with each other.
The debt is approaching $20 Trillion. That's such a ridiculous number that even economists can't fathom it. More than half of it generated on Obama's personal watch. We have no national border. None. Agents have been defanged, and the illegal aliens come across at will. The problems in Arizona and Texas are ignored by Obama.  Israel has gone from being our most trusted and respected ally in the Mideast to being openly discredited, condemned and insulted by him. The nuclear deal with Iran was and is a joke. Un-vetted Syrian male "refugees"… well hell, come to America! It's all so transparent. You elect an utterly totally unqualified candidate with dangerous background affiliations in his past, and this is what you get: a self-inflicted wound.
But it all pales, in my humble world, to his destruction of the American Military. These are the guardians of our way of life. These are the warriors. These are the "rough MEN who allow us to sleep soundly, because they stand ready in the night to visit violence on those who would do us harm". But go ahead, America: let this ideologue continue the systematic defanging of our fighting force. Let him feminize it. Let him drag it into the political correctness cesspool. Let him continue the social engineering and tinkering. Keep putting high heel shoes on male cadets, so they can "empathize". Forget all our hard-fought lessons at Khe Sanh, the Chosin Reservoir, Bastogne, Belleau Wood, Gettysburg, and Bunker Hill. Let the idiots tell you that war is "push button" now, so anyone can be a warrior.
Go ahead…
Historians won't have a difficult time analyzing this disintegration. We were just too timid to put a stop to the madness… "
Col. Fred Dibella, U.S. Army (Ret.)
        United Patriots of America
Posted on Saturday, 9.10.16 at 14:39.
Islamic Attacks in the U.S. or Against Americans
1979 – 2016


The following timeline lists terrorist attacks against the United States and Americans living either in the U.S. or abroad.
1979
Nov. 4, Tehran, Iran: Iranian radical students seized the U.S. embassy, taking 66 hostages. 14 were later released. The remaining 52 were freed after 444 days on the day of President Reagan's inauguration.
1982–1991
Lebanon: Thirty US and other Western hostages kidnapped in Lebanon by Hezbollah. Some were killed, some died in captivity, and some were eventually released. Terry Anderson was held for 2,454 days.
1983
April 18, Beirut, Lebanon: U.S. embassy destroyed in suicide car-bomb attack; 63 dead, including 17 Americans. The Islamic Jihad claimed responsibility.
Oct. 23, Beirut, Lebanon: Shiite suicide bombers exploded truck near U.S. military barracks at Beirut airport, killing 241 marines. Minutes later a second bomb killed 58 French paratroopers in their barracks in West Beirut.
Dec. 12, Kuwait City, Kuwait: Shiite truck bombers attacked the U.S. embassy and other targets, killing 5 and injuring 80.
1984
Sept. 20, east Beirut, Lebanon: truck bomb exploded outside the U.S. embassy annex, killing 24, including 2 U.S. military.
Dec. 3, Beirut, Lebanon: Kuwait Airways Flight 221, from Kuwait to Pakistan, hijacked and diverted to Tehran. 2 Americans killed.
1985
April 12, Madrid, Spain: Bombing at restaurant frequented by U.S. soldiers, killed 18 Spaniards and injured 82.
June 14, Beirut, Lebanon: TWA Flight 847 en route from Athens to Rome hijacked to Beirut by Hezbollah terrorists and held for 17 days. A U.S. Navy diver executed.
Oct. 7, Mediterranean Sea: gunmen attack Italian cruise ship, Achille Lauro. One U.S. tourist killed. Hijacking linked to Libya.
Dec. 18, Rome, Italy, and Vienna, Austria: airports in Rome and Vienna were bombed, killing 20 people, 5 of whom were Americans. Bombing linked to Libya.
1986
April 2, Athens, Greece:A bomb exploded aboard TWA flight 840 en route from Rome to Athens, killing 4 Americans and injuring 9.
April 5, West Berlin, Germany: Libyans bombed a disco frequented by U.S. servicemen, killing 2 and injuring hundreds.
1988
Dec. 21, Lockerbie, Scotland: N.Y.-bound Pan-Am Boeing 747 exploded in flight from a terrorist bomb and crashed into Scottish village, killing all 259 aboard and 11 on the ground. Passengers included 35 Syracuse University students and many U.S. military personnel. Libya formally admitted responsibility 15 years later (Aug. 2003) and offered $2.7 billion compensation to victims' families.
1993
Feb. 26, New York City: bomb exploded in basement garage of World Trade Center, killing 6 and injuring at least 1,040 others. In 1995, militant Islamist Sheik Omar Abdel Rahman and 9 others were convicted of conspiracy charges, and in 1998, Ramzi Yousef, believed to have been the mastermind, was convicted of the bombing. Al-Qaeda involvement is suspected.
1995
April 19, Oklahoma City: car bomb exploded outside federal office building, collapsing wall and floors. 168 people were killed, including 19 children and 1 person who died in rescue effort. Over 220 buildings sustained damage. Timothy McVeigh and Terry Nichols later convicted in the antigovernment plot to avenge the Branch Davidian standoff in Waco, Tex., exactly 2 years earlier. (See Miscellaneous Disasters.)
Nov. 13, Riyadh, Saudi Arabia: car bomb exploded at U.S. military headquarters, killing 5 U.S. military servicemen.
1996
June 25, Dhahran, Saudi Arabia: truck bomb exploded outside Khobar Towers military complex, killing 19 American servicemen and injuring hundreds of others. 13 Saudis and a Lebanese, all alleged members of Islamic militant group Hezbollah, were indicted on charges relating to the attack in June 2001.
1998
Aug. 7, Nairobi, Kenya, and Dar es Salaam, Tanzania: truck bombs exploded almost simultaneously near 2 U.S. embassies, killing 224 (213 in Kenya and 11 in Tanzania) and injuring about 4,500. 4 men connected with al-Qaeda 2 of whom had received training at al-Qaeda camps inside Afghanistan, were convicted of the killings in May 2001 and later sentenced to life in prison. A federal grand jury had indicted 22 men in connection with the attacks, including Saudi dissident Osama bin Laden, who remained at large.
2000
Oct. 12, Aden, Yemen: U.S. Navy destroyer USS Cole heavily damaged when a small boat loaded with explosives blew up alongside it. 17 sailors killed. Linked to Osama bin Laden, or members of al-Qaeda terrorist network.
2001
Sept. 11, New York City, Arlington, Va., and Shanksville, Pa.: hijackers crashed 2 commercial jets into twin towers of World Trade Center; 2 more hijacked jets were crashed into the Pentagon and a field in rural Pa. Total dead and missing numbered 2,9921: 2,749 in New York City, 184 at the Pentagon, 40 in Pa., and 19 hijackers. Islamic al-Qaeda terrorist group blamed. (See September 11, 2001: Timeline of Terrorism.)
2002
June 14, Karachi, Pakistan: bomb explodes outside American consulate in Karachi, Pakistan, killing 12. Linked to al-Qaeda.
2003 1
May 12, Riyadh, Saudi Arabia: suicide bombers kill 34, including 8 Americans, at housing compounds for Westerners. Al-Qaeda suspected.
2004
May 29–31, Riyadh, Saudi Arabia: terrorists attack the offices of a Saudi oil company in Khobar, Saudi Arabia, take foreign oil workers hostage in a nearby residential compound, leaving 22 people dead including one American.
June 11–19, Riyadh, Saudi Arabia: terrorists kidnap and execute Paul Johnson Jr., an American, in Riyadh, Saudi Arabia. 2 other Americans and BBC cameraman killed by gun attacks.
Dec. 6, Jeddah, Saudi Arabia: terrorists storm the U.S. consulate, killing 5 consulate employees. 4 terrorists were killed by Saudi security.
2005
Nov. 9, Amman, Jordan: suicide bombers hit 3 American hotels, Radisson, Grand Hyatt, and Days Inn, in Amman, Jordan, killing 57. Al-Qaeda claimed responsibility.
2006
Sept. 13, Damascus, Syria: an attack by four gunman on the American embassy is foiled.
2007
Jan. 12, Athens, Greece: the U.S. embassy is fired on by an anti-tank missile causing damage but no injuries.
Dec. 11, Algeria: more than 60 people are killed, including 11 United Nations staff members, when Al Qaeda terrorists detonate two car bombs near Algeria's Constitutional Council and the United Nations offices.
2008
May 26, Iraq: a suicide bomber on a motorcycle kills six U.S. soldiers and wounds 18 others in Tarmiya.
June 24, Iraq: a suicide bomber kills at least 20 people, including three U.S. Marines, at a meeting between sheiks and Americans in Karmah, a town west of Baghdad.
June 12, Afghanistan: four American servicemen are killed when a roadside bomb explodes near a U.S. military vehicle in Farah Province.
July 13, Afghanistan: nine U.S.soldiers and at least 15 NATO troops die when Taliban militants boldly attack an American base in Kunar Province, which borders Pakistan. It's the most deadly against U.S. troops in three years.
Aug. 18 and 19, Afghanistan: as many as 15 suicide bombers backed by about 30 militants attack a U.S. military base, Camp Salerno, in Bamiyan. Fighting between U.S. troops and members of the Taliban rages overnight. No U.S. troops are killed.
Sept. 16, Yemen: a car bomb and a rocket strike the U.S. embassy in Yemen as staff arrived to work, killing 16 people, including 4 civilians. At least 25 suspected al-Qaeda militants are arrested for the attack.
Nov. 26, India: in a series of attacks on several of Mumbai's landmarks and commercial hubs that are popular with Americans and other foreign tourists, including at least two five-star hotels, a hospital, a train station, and a cinema. About 300 people are wounded and nearly 190 people die, including at least 5 Americans.
2009
Feb. 9, Iraq: a suicide bomber kills four American soldiers and their Iraqi translator near a police checkpoint.
April 10, Iraq: a suicide attack kills five American soldiers and two Iraqi policemen.
June 1, Little Rock, Arkansas: Abdulhakim Muhammed, a Muslim convert from Memphis, Tennessee, is charged with shooting two soldiers outside a military recruiting center. One is killed and the other is wounded. In a January
2010 letter to the judge hearing his case, Muhammed asked to change his plea from not guilty to guilty, claimed ties to al-Qaeda, and called the shooting a jihadi attack "to fight those who wage war on Islam and Muslims."
Dec. 25: A Nigerian man on a flight from Amsterdam to Detroit attempted to ignite an explosive device hidden in his underwear. The explosive device that failed to detonate was a mixture of powder and liquid that did not alert security personnel in the airport. The alleged bomber, Umar Farouk Abdulmutallab, told officials later that he was directed by the terrorist group Al Qaeda. The suspect was already on the government's watch list when he attempted the bombing; his father, a respected Nigerian banker, had told the U.S. government that he was worried about his son's increased extremism.
Dec. 30, Iraq: a suicide bomber kills eight Americans civilians, seven of them CIA agents, at a base in Afghanistan. It's the deadliest attack on the agency since 9/11. The attacker is reportedly a double agent from Jordan who was acting on behalf of al-Qaeda.
2010
May 1, New York City: a car bomb is discovered in Times Square, New York City after smoke is seen coming from a vehicle. The bomb was ignited, but failed to detonate and was disarmed before it could cause any harm. Times Square was evacuated as a safety precaution. Faisal Shahzad pleads guilty to placing the bomb as well as 10 terrorism and weapons charges.
May 10, Jacksonville, Florida: a pipe bomb explodes while approximately 60 Muslims are praying in the mosque. The attack causes no injuries.
Oct. 29: two packages are found on separate cargo planes. Each package contains a bomb consisting of 300 to 400 grams (11-14 oz) of plastic explosives and a detonating mechanism. The bombs are discovered as a result of intelligence received from Saudi Arabia's security chief. The packages, bound from Yemen to the United States, are discovered at en route stop-overs, one in England and one in Dubai in the United Arab Emirates.
2011
Jan. 17, Spokane, Washington: a pipe bomb is discovered along the route of the Martin Luther King, Jr. memorial march. The bomb, a "viable device" set up to spray marchers with shrapnel and to cause multiple casualties, is defused without any injuries.
2012
Sept. 11, Benghazi, Libya: militants armed with antiaircraft weapons and rocket-propelled grenades fire upon the American consulate, killing U.S. ambassador to Libya Christopher Stevens and three other embassy officials. U.S. secretary of state Hillary Clinton said the U.S. believed that Al Qaeda in the Islamic Maghreb, a group closely linked to Al Qaeda, orchestrated the attack.
2013
Feb. 1, Ankara, Turkey: Ecevit Sanli detonates a bomb near a gate at the U.S. Embassy. Sanli dies after detonating the bomb. One Turkish guard is also killed. Didem Tuncay, a respected television journalist, is injured in the blast. Unlike the bombing at the embassy in Benghazi last September, the U.S. government immediately calls the bombing a terrorist attack. According to Turkish officials, the attack is from the Revolutionary People's Liberation Party, which has been labeled a terrorist organization by the U.S. and other nations.
April 15, Boston, Mass.: multiple bombs explode near the finish line of the Boston Marathon. Two bombs go off around 2:50 in the afternoon as runners finish the race. Three people are killed. One is an eight year old boy. More than 260 people are injured. Three days later, the FBI releases photos and video of two suspects in the hope that the public can help identify them. Just hours after the FBI releases the images, the two suspects rob a gas station in Central Square then shoot and kill a MIT police officer in his car. Afterwards, the two men carjack a SUV and tell the driver that they had set off the explosions at the marathon. Police pursue the vehicle into Watertown. During the shootout, a MBTA officer is shot and one of the suspects, identified as Tamerlan Tsarnaev, age 26, is killed. A suicide vest is found on his body. The other suspect, Dzhokhar A. Tsarnaev, age 19, remains at large for several hours, causing a massive manhunt and lockdown for all of Boston, Cambridge, and many other surrounding communities. The manhunt ends when he is found alive, but seriously injured, hiding in a boat behind a house in Watertown. The two suspects are brothers and had been living together in Cambridge. They have lived in the U.S. for about a decade, but are from an area near Chechnya, a region in Russia.
2014
July 17, Ukraine: A Malaysia Airlines Boeing 777 crashes in eastern Ukraine near the Russian border, killing all 298 passengers and crew members. The crash occurs in territory where pro-Russian separatists have been battling Ukrainian troops. President Poroshenko says the crash is an act of terror. "I would like to note that we are calling this not an incident, not a catastrophe, but a terrorist act," he says. Ukrainian and American officials say the plane is shot down by a Russian-made surface-to-air missile, citing satellite images. Poroshenko accuses the separatists of launching the missile, which they deny. Russian president Putin also denies having any role in the disaster. A day after the crash, President Obama says he believes that the rebels shot down the plane. He calls the crash a "global tragedy" and faults Putin for continuing to arm the rebels and for not stopping the fighting. Most analysts say rebels may have thought they were targeting a military transport plane rather than a commercial jet. A day before the crash, the U.S. and Europe impose further sanctions on Russia in response to Putin's refusal to stop arming the separatists.
August 19: Members of ISIS behead American journalist James Foley, 40, in apparent retaliation for U.S. airstrikes against the group. Foley, who worked for GlobalPost, went missing in Syria in November 2012.
Sept. 2: An ISIS militant decapitates another American journalist, Steven Sotloff, 31, who worked for Time and other news outlets. He was abducted in 2013 in Syria.
2015
Dec. 2, San Bernadino, Calif.: Fourteen people are killed and more than 20 wounded when two people open fire at a holiday party at the Inland Regional Center, a service facility for people with disabilities and special needs in San Bernardino, California. The suspects, husband and wife Syed Rizwan Farook and Tashfeen Malik, are killed in a shootout with police after the rampage. Officials say they believe the attack is terrorism related. It is the worst mass shooting in the United States since 26 people were killed in Dec. 2012, at Sandy Hook Elementary School in Newtown, Connecticut. (Dec. 8): The F.B.I. announces that Farook and Malik had been "radicalized." The FBI also concludes that while the couple was not working with ISIS directly, their actions were inspired by the Islamic State.
2016
June 12: A mass shooting at an Orlando nightclub in the early hours of Sunday, June 12, 2016, leaves 50 people dead, including the gunman, and more than 50 injured. The shooter is identified as Omar Mateen, 29, who entered the nightclub armed with an assault rifle and a pistol. According to authorities, Mr. Mateen pledged his allegiance to ISIS via a 911 call from inside the nightclub. This massacre is the deadliest mass shooting on U.S. soil.
See also U.S.-Designated Foreign Terrorist Organizations; Suspected al-Qaeda Terrorist Acts.
1. On Oct. 29, 2003, New York officials reduced the number of people killed at the World Trade Center in the September 11, 2001, terrorist attacks on the United States by 40 names. The list of casualties dropped to 2,752 from 2,792 for a variety of reasons: some people initially reported missing have been found, there were duplicate names, there was no proof that a person was at the World Trade Center that day, and because of fraud. On January 2004, the number was reduced by 3 more to 2,749.
Soure : http://www.infoplease.com/ipa/A0001454.html

/////////////////////////////////
Posted on 9.22.16
Senate GOP floats plan to avert government shutdown, but Dems vow to block
By Stephen Dinan and Tom Howell Jr. – The Washington Times – Thursday, September 22, 2016
http://www.washingtontimes.com/news/2016/sep/22/gop-floats-plan-avert-govt-shutdown-dems-vow-block/
//////////////////////////////////
Posted on 9.22.16
ONLY 37 REPUBLICANS BACK PLAN TO DEFUND MUSLIM 'REFUGEES'
9.20,16
Texas congressman calls Obama's influx 'clear and present danger'
See who signed Babin's letter and who did not.
http://www.wnd.com/2016/09/only-37-republicans-back-plan-to-defund-muslim-refugees/
/////////////////////////////////
Posted on 9.22.16
Update on the Refugee "MORATORIUM" in Congress 9.21.16
This information came from a Senior government Relations Manager at FAIR (Feration for American Immigration Reform)
"it looks like the Senate will not include refugee language.
It was suggested that a call in campaign be initiated after the election and before Dec. 9 when Congress will need to pass another funding bill.  The House still has the issue as one they are discussing but based on conversations I have had it does not look like it will be included .
Posted on Friday September 16th
Call and Tell your Representative to vote for the "moratorium" to defund the Refugee program
We are into our hurry up offense: this is our two minute drill.
Next Monday and Tuesday we need everyone to CALL your Representative in the House at 202-225-3121 and ask them to support Babin's moratorium on the Refugee Settlement program. SHARE this and CALL
Rep. Babin's press release.
http://babin.house.gov/news/documentsingle.aspx?DocumentID=958
Washington, DC – U.S. Rep. Brian Babin (R-TX) was joined by 37 of his colleagues today in sending a letter to Speaker Ryan, Majority Leader McCarthy and Appropriations Chairman Rogers asking that provisions be included in the upcoming Continuing Resolution legislation that would put in place a moratorium on refugees coming from terrorist hotbeds in Syria, the Middle East, and North Africa until appropriate screening procedures are put in place and Congress is given a full accounting of the costs of this program.
"There is no duty of the federal government more important than ensuring the protection of the American people," the letter states. "We believe it is prudent and in the best interest of the American people that language be included in the upcoming FY 2017 Continuing Resolution to restore Congressional oversight and authority over the refugee program.  We cannot allow the refugee program to serve as a Trojan Horse threat to American national security.  Our sworn duty is first and foremost to the safety and security of the American people."
The letter can be read here and below:
Speaker Ryan, Majority Leader McCarthy and Chairman Rogers,
We are writing to express our concerns about the continuing threat of terrorism and to urge that the Congress exercise greater oversight and authority over the refugee resettlement programs as we consider the FY2017 Continuing Resolution legislation.
In the aftermath of the attacks by radical Islamist jihadists in Paris, San Bernardino, Brussels, Nice, Germany, Istanbul and Orlando, the American people have become increasingly wary of the massive refugee influx from terrorist hot spots, the inability to conduct proper security screening of these individuals and the serious national security concerns this raises for the American people.
Furthermore, the President's rush to meet an arbitrary number of 10,000 Syrian refugee admissions in FY 2016, in spite of security concerns raised by top Administration national security officials, indicates that national security concerns are being set aside in order to meet arbitrary policy goals.
The Director of National Intelligence, the Director of the Federal Bureau of Investigation and the Secretary of Homeland Security have each stated that they cannot properly screen refugees coming from Syria and the surrounding regions for possible threats to our national security.
There is no duty of the federal government more important than ensuring the protection of the American people.  We believe that we would fall short of that duty if the Congress fails to exercise greater authority over the Administration's refugee resettlement program.  We see this as an important national security concern and ask that this concern be addressed in the upcoming negotiations over funding in the FY 2017 Continuing Resolution.
We believe it is prudent and in the best interest of the American people that language be included in the upcoming FY 2017 Continuing Resolution to restore Congressional oversight and authority over the refugee program.  Specifically we would ask that you consider putting language in the continuing resolution that would:
1.      Prevent federal funds from being used to admit to the United States refugees from Syria, the Middle East and North Africa until the following conditions are met:
a. Federal Immigration, law enforcement and national security agencies put in place processes to ensure that refugee and related programs are not able to be co-opted by would be terrorists;
b. That such process and programs are provided to the Congress in both classified and public formats;
c. That a longer-term monitoring process be put into place for those admitted to the U.S. as refugees; and
d. That no federal funds may be used for refugee travel to the U.S. or any U.S. resettlement of refugees from this troubled region until Congress has passed by joint resolution a bill that specifically approves funding for such purposes.
2.      Permit U.S. funds to continue to be used to provide for the safety of refugees overseas, including housing, food and medical aid.
ISIS has repeatedly declared that they would infiltrate the refugee community that is leaving the Middle East and flooding into Europe. The attacks across Europe over the past year appear to be a fulfillment of that threat.  We cannot allow the refugee program to serve as a Trojan Horse threat to American national security.  Our sworn duty is first and foremost to the safety and security of the American people.
We look forward to working with you to make this a priority in the Continuing Resolution. 
End of Babin's Letter to Republican house leadership
Senator Sessions schedules hearing in Judiciary subcommittee for Wednesday 9/21
9.16.16
https://refugeeresettlementwatch.wordpress.com/2016/09/16/senator-sessions-schedules-hearing-in-judiciary-subcommittee-for-wednesday-921/
End of Friday's September 16th 2016 posting
vvvvvvvvvvvvvvvvvvvvvvvvvvvvvvvvvvvvvvvvvvvvvvv
Mission – Have Congress Defund the Refugee Program
CALL THEM
Capital Switchboard # 202-224-3121 or 202-225-3121
DEFUND THE REFUGEE RESETTLEMENT PROGRAM
My calls to the House of Representatives per Suzanne Shattuck's videos.
Capital Switchboard # 202-224-3121 or 202-225-3121
Logistics for getting to your Rep. Press zero for operator if you get a machine and give Reps name to operator who will connect you.
If you make calls you can report back by posting it as a comment here.
It would serve as an inspiration for others to make their calls.
Calls made to Congressy by me Ron today, Thursday September 8th, 2016
Capital switchboard #  202-224-3121or 202-225-3121
Rep. Steve Scalise
Majority Whip,
Assists leadership in managing party's legislative program.
I spoke to Mitchell
Rep. Cathy McMorris Rodgers
Republican Conference Chairman
Heads organization of all Republican Party members in the House.
I spoke to Steven
Rep. Luke Messer
Republican Policy Committee Chairman
Heads Conference forum for policy development.
I spoke to John
Talking points update.
Under the Refugee Act of 1980 both the House and Senate Judiciary Committees are required to hold hearings.Tell them to hold the hearings.
Ann Cocoran at Refugee Resettlement Watch says:
I won't stop beating this drum!  The number of refugees admitted to the US this coming year will depend on the REPUBLICANS IN CONGRESS (not on Obama!).
They can cut the funding for the program and thus cut the number of refugees placed in your towns! If they want to!
https://refugeeresettlementwatch.wordpress.com/
United Patriots of America